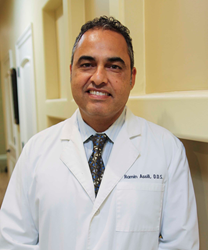 Northridge, CA (PRWEB) May 04, 2017
Northridge dentist, Dr. Assili, and Dr. Elyson announce that they are now offering several promotions for a limited time this spring. Currently, patients can get a dental implant for $999, or $200 off any dental implant procedure. Invisalign treatment is being offered for just $3,395, including a complimentary consultation. The dentists are also offering a one-hour session of Zoom whitening for $199. None of these offers can be combined with any others, and all of the offers expire on June 30, 2017.
Dental implants easily beat other tooth replacements in terms of appearance, oral health, and durability. Unlike dentures and bridges, dental implants have no external hardware to distinguish them from natural teeth. Implants also help keep the jaws from deteriorating after tooth loss, are easy to clean, and can last for life if cared for properly. Invisalign is the leading discreet orthodontic treatment and can often straighten the teeth of eligible patients more quickly than metal braces can. Zoom whitening uses three bleaching cycles per session, as well as a patented gel and activation light to maximize stain elimination.
Many other treatments are also available at this office near CSU Northridge. For example, the dentists offer general dentistry, including routine exams, X-rays, cleanings, root canals, and extractions. Restorations at the office include tooth-colored fillings, bonding, and bridges. Cosmetic treatments at the office, such as crowns and veneers, are available to improve the smile in virtually every way. Smile makeovers are available to patients who want to improve their smile in multiple ways. The office also provides sedation dentistry, children's dentistry, and treatments for sleep apnea and TMJ.
Dr. Assili and Dr. Elyson are both graduates of California State University, Northridge, where Dr. Assili earned his undergraduate degree in Biochemistry and Dr. Elyson earned his degree in Chemistry. After graduating from CSUN, the dentists earned their DDS degrees at UCLA School of Dentistry. During their careers, both dentists have completed additional training in specialties such as dental implants. Dr. Assili and Dr. Elyson are reputable members of the American Dental Association, the California Dental Association, and several other organizations in their profession.