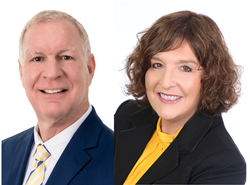 We're expanding one of the most professional, effective brokerages in the industry, and we're excited to welcome Allison and Jim.
BETHANY BEACH, Del. (PRWEB) May 05, 2021
Northrop Realty, A Long & Foster Company, added two real estate professionals Allison Stine and Jim Lattanzi serving the Delaware and Maryland coastal region. Stine and Lattanzi join Northrop Realty as the brokerage opens two new locations in Delaware, a coastal headquarters in Bethany Beach and an office in Millsboro.
"We're known for our powerhouse culture at Northrop Realty," said Creig Northrop, founder and CEO of Northrop Realty. "We're expanding one of the most professional, effective brokerages in the industry, and we're excited to welcome Allison and Jim. They'll provide the absolute best service to home buyers and sellers in the coastal region."
Stine leads a team of seven real estate agents and serves customers in Northrop Realty's new coastal headquarters in Bethany Beach. Named a Top 100 agent by Long & Foster Real Estate, she led the top producing team for Long & Foster in the Bethany Beach office from 2008 to 2019. The Sussex County Association of Realtors named Stine REALTOR® of the Year in 2016, and Delaware Today named her a 5 Star Realtor 10 times. She is a certified residential specialist, the highest designation awarded to residential sales associates.
"An estimated one-in-five U.S. adults either changed their residence due to the pandemic or know someone who did, according to a Pew Research Center survey. That is further fueled by interest rates that are at a 50-year low today," Stine said. "People with the ability to live and work from home are not leaving their beach house. If they can live anywhere, why not the beach? Northrop Realty's expansion plants the Northrop flag in the sand and shows the community that Northrop is truly committed to serving the growing Delaware beach market."
Lattanzi leads an office that includes more than 10 real estate agents and serves customers from Northrop Realty's new office in Millsboro. He brings more than 20 years of experience in Delaware real estate. Previously, he worked in Michigan real estate for seven years and sales and sales management for 31 years. Lattanzi will focus on the growing Millsboro market, marked by increased demand from buyers, new home construction and a rapidly selling inventory of existing homes.
"What excites me most about working with Northrop Realty is having my name associated with the brand that delivers," Lattanzi said. "I will be able to recruit top agents because I can look them in the eye and say, 'This is going to be the best move you've ever made.' I can say that now from experience and know that I'm telling the truth. It's not a sales pitch; it's a promise."
Northrop Realty supports real estate agents by providing administrative support, NorthropU sales training, mentorship and coaching, comprehensive tech support and access to office locations throughout the region. In addition, the brokerage offers extensive advertising and marketing services to agents, including home staging, professional photography and Matterport 3D virtual tours.
"Northrop Realty makes our job as agents easy, almost foolproof. I can tell you I've had many more homes on the peninsula sell within one to seven days because of Northrop Realty's support. It allows me to do what I do best, and that is sell," Lattanzi said.
Northrop Realty has two additional office locations in the coastal region in Fenwick Island, Delaware, and West Ocean City, Maryland, and offices in Annapolis, Clarksville, Columbia, Ellicott City, Fallston, Frederick, Silver Spring, Sykesville and Lutherville-Timonium, Maryland.
Northrop Realty, A Long & Foster Company, evolved from the No. 1 ranked real estate team in the nation*, the Creig Northrop Team of Long & Foster Real Estate. As a full-service brokerage, Northrop Realty represents buyers and sellers of residential real estate in the Baltimore and Washington metropolitan regions with offices in Annapolis, Clarksville, Columbia, Ellicott City, Fallston, Frederick, Silver Spring, Sykesville and Lutherville-Timonium. Northrop Realty also services Pennsylvania and operates coastal office locations in West Ocean City, Maryland, Fenwick Island, Bethany Beach and Millsboro, Delaware, and West Palm Beach, Florida. Creig and Carla Northrop have more than 25 years of experience in real estate and lead more than 250 licensed real estate professionals. Northrop Realty was ranked as the No. 1 specialty brokerage in the nation by REALTrends for 2019 based on closed sales volume. (http://www.northroprealty.com)
*By sales volume, according to the REAL Trends 1000