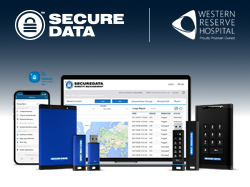 SecureData provided Western Reserve Hospital with a comprehensive and easy to deploy data security solution that met the rigid needs of HIPAA compliance.
LOS ANGELES (PRWEB) October 14, 2021
Western Reserve Hospital, a community-based healthcare provider in Northwest Ohio, has deployed SecureData's award-winning FIPS 140-2 Level 3 validated, managed, and secure data storage devices to better secure sensitive patient data that meet strict data handling requirements enforced by the Health Insurance Portability and Privacy Act (HIPAA).
The hospital, which is owned and operated by local physicians and employs nearly 900 doctors, administrators, and support staff, needed a comprehensive data security plan that was flexible, comprehensive, and easy to deploy. Doctors and other staff members needed sensitive data to be portable and accessible to multiple users on-site and in transit when physicians were required to attend to patients at other affiliated health clinics.
Vince Allen, Manager of IT&S Operations for Western Reserve Hospital, chose to implement SecureDrive BT portable external drives and SecureUSB BT flash drives, both with Remote Management, which provides greater levels of security by letting IT administrators centrally control where, when, and by whom BT drives can be accessed. All SecureData BT drives are FIPS-140-2 Level 3 validated and along with its Remote Management are OS/Host Independent allowing them to be used with any equipment and Operating Systems supporting standard USB port.
"To help ensure [HIPAA] compliance, we had to enhance our security to make sure that any portable data was encrypted and could be remotely wiped if the device is ever lost or stolen," said Mr. Allen.
All SecureData's data storage devices with mobile phone/app user authentication, come Remote Management ready, protecting the customer's investment. They come with anti-hacking and brute force protection, read-only option, remote wipe, and other security features. Every secure device includes complimentary 1-year [DriveSecurity® __title__ DriveSecurity®] (by ClevX®) for comprehensive drive-based antivirus protection.
Unlike competing remote management solutions, SecureData's Remote Management console is OS/Host independent and requires no software applications to be preloaded/running on the host. This subscription-based Software as a Service (SaaS) gives IT administrators in the health sector the flexibility they need to strictly enforce security policies. The Remote Management console can control where and when drives can be accessed (geo- and time-fencing), track and manage multiple drives on one account, remotely unlock a drive or reset a password, and remotely wipe a drive if it is stolen or lost.
SecureData provided Western Reserve Hospital with a comprehensive and easy-to-use way to deploy data security solutions that meet the rigorous requirements of HIPAA compliance.
"I've had zero complaints from my users, which are doctors, hospital staff, and my IT team," Mr. Allen said. "No additional IT support is necessary after the initial setup."
About SECUREDATA, Inc.
SecureData is a privately held company headquartered in Los Angeles, California. We provide ultra-secure and innovative data security solutions to our partners and customers worldwide through specialized services, software, and products. Our offerings include professional data recovery services, digital forensics, FIPS-validated, and hardware-encrypted portable data storage, data backup solutions, and file repair software. SecureData has built a reputation as a trusted security solutions provider with the highest number of industry-specific certifications proving that our process, facilities, and products exceed industry standards.
For more information, please visit: https://www.securedata.com/
About ClevX, LLC
ClevX is a Seattle-based information security technology company – Your Innovation Partner. It is focused on the Security/Mobility markets where ClevX pioneered its award-winning DATALOCK® KP/BT Secured USB and drives (OS-agnostic, hardware encrypted, PIN- or Phone-activated, bootable) and easy-to-use portable software applications for secure drives for personal and business use. ClevX differentiates itself by creating solutions that are simple, clever, and elegant.
For more information, please visit: https://www.clevx.com/
About Western Reserve Hospital
Western Reserve Hospital serves as one of Northeast Ohio's most advanced community hospitals, dedicated not only to exceptional patient care and excellence in healthcare services but also to education, community outreach, and the overall wellness of Cuyahoga Falls and the surrounding areas. The hospital, owned and operated by physicians in the community, comprises more than 890 employees, including more than 400 physicians and 220 nurses.
For more information, please visit: https://www.westernreservehospital.org/about-us
SECUREDATA Media Inquiries:
pr@securedata.com
SecureDrive Product Sales Inquiries:
sales@securedrive.com or call 1-424-363-8535
Request a Free Evaluation: https://www.securedrive.com/support/request-evaluation