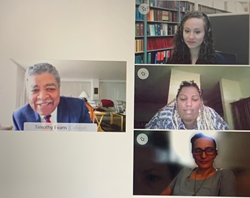 ARLINGTON HEIGHTS, Ill. (PRWEB) June 17, 2021
Each year, the Honorable Timothy C. Evans scholarship is awarded to a law student and, for the first time, paralegal students who reside in the Northwest suburbs of Chicago, IL. Scholarship recipients are chosen based on factors including scholastic achievement, financial need, leadership skills, and involvement in extracurricular activities, community service, and other school activities.
The NWSBA awarded a $1,550 scholarship to a law school student. The recipient of this scholarship for 2021 is Emily Motin, a student attending Chicago-Kent College of Law. The NWSBA awarded scholarships to two students who are attending the paralegal program at Harper Community College. The NWSBA funded a $1,550 scholarship, which was awarded to Mia O'Malley, and Newland & Newland, LLP funded a $1,550 scholarship, which was awarded to Chaltu Spray. The president of Harper Community College, Avis Proctor, was present at the meeting and spoke to honor the recipients.
President Newland took time during the meeting to thank those that supported initiatives to work with the community during the pandemic, ensuring that the Bar could make things a little bit better for families. The NWSBA's initiatives allowed for over 100 financially challenged families to have a Thanksgiving dinner and provided over 100 holiday gifts to children. At the same time, members of the NWSBA were provided over 1,000 hours of training credit to retrain and retool during the pandemic.
In addition to awarding the scholarships, the NWSBA announced the new slate of officers for 2021, and U.S. Congressman Raja Krishnamoorthi addressed the NWSBA virtually and thanked Judge Evans for his leadership. For more information about the annual meeting, please visit the Newland & Newland website at: https://www.newlandlaw.com/press-releases/northwest-suburban-bar-association-awards-timothy-c-evans-scholarship-at-annual-meeting
About the NWSBA
The Northwest Suburban Bar Association is dedicated to excellence in the practice of law. With more than 600 members throughout the northwest suburbs of Chicago, the NWSBA provides a number of helpful resources for attorneys, including free continuing legal education programs for members. To learn more about the NWSBA, visit https://www.nwsba.org/