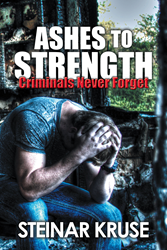 BJORBEKK, Norway (PRWEB) January 07, 2019
A marine engineer by trade, Steinar Kruse developed a great love for reading while at sea. He was so inspired by his sense of imagination and adventure that he wrote and published his first book, "Ashes to Strength: Criminals Never Forget," a crime novel centering on a Norwegian man whose life becomes intertwined with the Yukon Territories as he faces a great tragedy that leaves him with many questions unanswered.
Nils Henrik Ellefsrud learns that his cabin in Alberta has exploded and burned down, two people are missing, and the only survivor is his daughter, TJ. With no idea what has happened to his wife and TJ's nine-year-old twin brother, Nils is led down a dark journey to what he hopes is the truth.
"Over the years, I thought about writing a book," said Kruse. "Going from an avid reader to a published author has truly been a dream come true."
"Kruse is a true man of the world and has been to the places he writes about with insight," said Lou Waters, former anchor and correspondent for CNN.
In the tradition of other Scandinavian crime authors, Kruse presents a mystery about a Norwegian man desperate to discover the truth of what happened to his wife and son, leading him to recollect on the travels of his youth to New York and the Yukon.
"Ashes to Strength: Criminals Never Forget"
By Steinar Kruse
ISBN: 9781546294993 (softcover); 9781546295006 (hardcover); 9781546294986 (eBook)
Available at the AuthorHouse Online Bookstore, Amazon and Barnes & Noble
About the author
Steinar Kruse has been a Chief Engineer in the merchant marine industry on some of the world's largest cruise ships for over 40 years, including the Norwegian Cruise Line. He has a master's in engineering and is a veteran of the Norwegian Army. It was during his voyages on the ocean that Kruse developed a love for reading to further channel his adventurous mind. To learn more, please visit http://www.ashestostrength.com.
###
General Inquiries:
LAVIDGE – Phoenix
Bryan Beach
480-306-6554
bbeach(at)lavidge(dot)com
Review Copies & Interview Requests:
LAVIDGE – Phoenix
Kiersten Woglom
480-998-2600 x 586
kwoglom(at)lavidge(dot)com