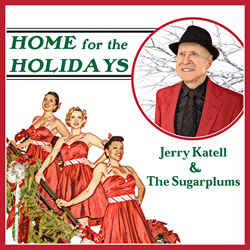 No matter how dark the year has been, once these classic holiday songs come on, everything warms up, right inside your soul. It's like being with your best childhood friends.
LOS ANGELES (PRWEB) December 23, 2020
With the 2020 holiday season in full swing and a cloud of pandemic-driven humbug looming in the air, Los Angeles based producer and crooning vocalist Jerry Katell felt the need to remind us what the holidays are all about. "The holidays mean family to me, celebrating the wonders of life together," says Katell.
Joining forces with 1950s-style trio The Sugarplums (currently competing on the Christmas Caroler Challenge, a national singing competition on the CW) Katell created the joy filled holiday album Home for the Holidays (available on Youtube and streaming platforms on December 25th, 2020). Jerry met The Sugarplums while they were performing at a Christmas party in Hollywood. He was blown away, calling the all-female vocal group, "the reincarnated Andrews Sisters." In the words of The Sugarplums, voiced by Amy McAndrew, Emily Goglia, and Jenna Gillespie, "these classic songs will bring the nostalgia to life."
Home for the Holidays is a Sinatra-esque collection of classic holiday hits like Jingle Bell Rock, Baby it's Cold Outside, What are You Doing New Year's Eve? and Let it Snow. With Katell's crooning baritone vocals and the sweet three-part harmonies of The Sugarplums, Jerry called on veteran L.A. guitarist Geno Hendersdon to lay down guitars. Geno has performed with musical legends like Sly Stone, Smokey Robinson, The Pointer Sisters and countless others. "When I first met [Jerry] he was a big shot Broadway producer. Now he needs a talent agent," says Henderson, whose mastery of the guitar shines throughout the record. On the Christmas classic Winter Wonderland, Henderson delivers a tasteful solo that sings with inspiration reminiscent of vintage Wes Montgomery.
Jerry Katell was born and raised in New York City, growing up surrounded by music and theater. Katell's younger sister, Wendy Hersh, multi-instrumentalist and life long professional musician, plays bass on the record. "My father was a singer and performed in many community theater productions," Jerry recalls. "My brothers, sisters, daughter Jennifer and nephews are very talented musically. I always wanted to sing but never totally focused on it….now it has become a major part of my life."
As 2020 comes to an end, we usher in a new year filled with hope. Settle in this Christmas Day with Jerry Katell & The Sugarplums' debut release: Home for the Holidays. Joseph Itaya, the album's producer and pianist, sums up the album to perfection. "This album is a ray of sunshine when we need it most. It encompasses that feeling of the holidays that never lets you down. No matter how dark the year has been, once these classic holiday songs come on, everything warms up, right inside your soul. It's like being with your best childhood friends."