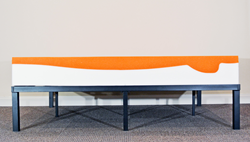 Why are mattresses flat? People are curved!
MILLERSVILLE, Tenn. (PRWEB) May 16, 2019
Today, Not Flat, Inc., a Tennessee based company, announces that it is launching its new Not Flat mattress and pillow on Kickstarter. Both the mattress and pillow use patent pending internally curved construction to shape the comfort of the products to the curves of the human body.
"This all started with the question, 'Why are mattresses flat?," says Not Flat co-founder, Scot Childers. "We just couldn't understand why every mattress in the world was made of stacks of flat layers inside, when people aren't flat. We are curved. So, we engineered a radical new way to make mattresses and pillows using internally curved construction."
Childers' 10-year old daughter, Ella, has had an active hand in creating the new company, and is the other co-founder. Ella says, "People aren't flat. Mattresses shouldn't be flat either. So, my dad and I are launching the world's first curved mattress."
The Not Flat mattress and pillow are now available on the Kickstarter crowdfunding site, with first orders shipping in August. The campaign can be found at https://www.kickstarter.com/projects/notflat/the-not-flat-mattress-and-pillow?ref=project_build#