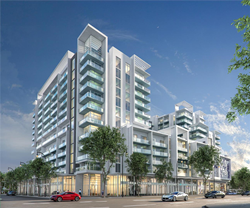 As recent ACI test results have shown, concrete treated with PENETRON ADMIX can last up to 60 years longer than untreated concrete. It turned out to be the optimal solution for Miami's tropical climate.
EAST SETAUKET, N.Y. (PRWEB) January 23, 2020
In December 2019, the first residents of the Quadro Apartment complex moved in. The mixed-use development in the heart of Miami's Design District integrated Penetron crystalline technology to ensure the crucial below-grade concrete structure would be waterproof and durable.
The Quadro, a residential/commercial building on the former studios of WPLG-Channel 10 in Miami's Design District, was envisioned by Behat Font Partners and built by Alta Developers. The 13-floor tower features 198 rental apartments with open floor plans ranging from 548 square foot (50 m2) studios to 1,280 square foot (116 m2) 3-bedroom apartments. The Quadro complex also has 26,888 square feet of commercial/retail space on the ground floor and underground parking for 387 cars.
Revitalized Design District
"The Design District in Miami is a neighborhood of art galleries, showrooms, creative start-ups, architecture firms, luxury fashion stores, antiques dealers, restaurants and bars," adds Christopher Chen, Director of The Penetron Group. "Once a neglected, run-down area that had fallen into disrepair, the Quadro project is further confirmation of its reemergence as a trendy shopping, dining and cultural destination."
With panoramic views of Biscayne Bay and the Miami skyline, amenities at the Quadro also include a swimming pool with a large deck and cabanas, patio deck with a summer kitchen and BBQ, game room, residents' lounge, fitness center and yoga room, pet-wash room, and bicycle room.
Ensuring durable below-grade concrete elements
"With a construction site only two blocks from the Atlantic Ocean, the project owners at Alta Developers needed secure – and waterproof – below-grade foundation elements to ensure durability," adds Christopher Chen. "We worked with Titan Concrete, the ready-mix supplier, and proposed an optimal waterproofing solution."
The design and construction team faced various challenges due to the high groundwater level on the jobsite and extreme chloride ion exposure, both major causes of concrete deterioration. Initially, the project engineers specified a bentonite membrane as the waterproofing solution. However, the local Penetron specialist showed that implementing a solution based on integral crystalline technology would not only streamline the construction schedule, it will guarantee a durable structure with an extended service life.
Titan Concrete supplied the PENETRON ADMIX-treated concrete used to construct the elevator pit/pile cap, ensuring a waterproof and durable concrete matrix.
Permanent concrete protection – and self-healing capability
Easily mixed in during batching and unaffected by climatic conditions, PENETRON ADMIX forms an integral part of the concrete from day one and lasts for the life of the concrete. A permanent solution with self-healing capabilities, PENETRON ADMIX-treated concrete will self-heal and seal all hairline cracks that form – for the life of the concrete. This crystalline waterproofing admixture is designed to protect concrete in critical environments, like the Quadro construction site in Miami.
"As recent ACI test results have shown, concrete treated with PENETRON ADMIX can last up to 60 years longer than untreated concrete," says Christopher Chen. "It turned out to be the optimal solution for Miami's tropical climate."
The Penetron Group is a leading manufacturer of specialty construction products for concrete waterproofing, concrete repairs and floor preparation systems. The Group operates through a global network, offering support to the design and construction community through its regional offices, representatives and distribution channels.
For more information on Penetron waterproofing solutions, please visit penetron(dot)com or Facebook(dot)com/ThePenetronGroup, email CRDept(at)penetron(dot)com, or contact the Corporate Relations Department at 631-941-9700.