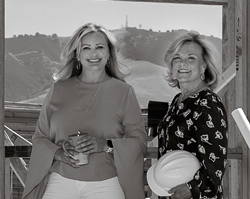 We believe that real estate is about improving people's lives, so we've created a warm, comfortable atmosphere that makes our clients feel confident about the process
DANVILLE, Calif. (PRWEB) November 03, 2021
Notable Real Estate today announced its partnership with Side, the only real estate technology company that exclusively partners with high-performing agents, teams, and independent brokerages to transform them into market-leading boutique brands and businesses. The alliance will ensure that Notable Real Estate, a company that provides committed, personal residential real estate services, is powered by the most advanced platform in the industry.
Notable Real Estate was founded by top East Bay agents Raelene Sprague and Tonya Colton, who have 50 years of combined experience. Sprague has been in the industry for decades, and her experience includes investment trust acquisitions and syndications in the corporate sector, in addition to residential real estate. Colton, a longtime East Bay resident, dove headfirst into the industry after college and has won multiple awards during her successful career.
Together, Sprague and Colton facilitated $54 million in sales volume in 2020, and, in 2021, they were both ranked in the top 1.5% of California agents by The Wall Street Journal and RealTrends. Headquartered in Danville, California, Notable Real Estate specializes in residential real estate throughout the East Bay.
Partnering with Side will ensure Notable Real Estate remains on the cutting edge of the evolving real estate market while continuing to deliver premium services to its clients. Side works behind the scenes, supporting Notable Real Estate with a one-of-a-kind brokerage platform that includes proprietary technology, transaction management, branding and marketing services, public relations, legal support, lead generation, vendor management, infrastructure solutions, and more. Additionally, Notable Real Estate will join an exclusive group of Side partners, tapping into an expansive network from coast to coast.
"At Notable Real Estate, we believe that real estate is about improving people's lives, so we've created a warm, comfortable atmosphere that makes our clients feel confident about the process," said Colton. "Through Side's strength, organization, and elite network of industry leaders, we can develop our company in the style we envision — designed specifically to meet our clients' needs — with the commanding underpinnings of a premier firm," added Sprague.
Side is led by experienced industry professionals and world-class engineers who develop technology designed to improve agent productivity and enhance the client experience. Based on its belief that homeownership is a fundamental human right, Side is on a mission to improve the public good by providing top-performing real estate agents, teams, and indie brokerages with the best system, support, service, experience, and results.
About Notable Real Estate
With more than 50 years of combined real estate practice, sales, and achievements, the professionals at Notable Real Estate can deliver on a range of real estate needs. Past clients and referrals make up 82% of the company's business because every client is a top priority, and every transaction is a memorable journey. Notable Real Estate defines the real estate experience with clarity of information, responsive follow-up, and availability that has no expiration date — ever. To learn more, please visit http://www.notableteam.com.
About Side
Side transforms high-performing agents, teams, and independent brokerages into successful businesses and boutique brands that are 100% agent-owned. Side exclusively partners with the best agents, empowering them with proprietary technology and a premier support team so they can be more productive, grow their business, and focus on serving their clients. Side is headquartered in San Francisco. For more information, visit http://www.sideinc.com.