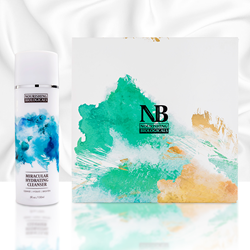 This softly foaming milky cleanser enriched with refreshing cucumber, orange extract, green tea, and Shea butter gently smooths skin and melts away makeup, dirt, and oil on the face and eyes while protecting against dehydration and dryness.~ Natalia Sadowski, Director of Aesthetics and Education
SAINT AUGUSTINE, Fla. (PRWEB) February 24, 2020
Nourishing Biologicals, a Bioscience company, created by world-renowned surgeon and biologist, George E. Sadowski, M.D., to treat the cause, not just the symptoms of aging skin with advanced Miracular Cellular Communication™, announces the launch of their all-new Miracular Hydrating Cleanser.
The Miracular Hydrating Cleanser joins the existing Nourishing Biologicals antiaging skincare therapy line which includes the Miracular Face Serum, Miracular Eye Cream and Miracular Skin Essence moisturizer.
"Nourishing Biologicals' Miracular Hydrating Cleanser is formulated to be an easy and effective first-step for an at-home skincare regimen and is safe for all skin types. This softly foaming milky cleanser enriched with refreshing cucumber, orange extract, green tea, and Shea butter gently smooths skin and melts away makeup, dirt, and oil on the face and eyes while protecting against dehydration and dryness. It leaves skin deeply clean, soft, hydrated, radiant, and ready for the next steps in your routine," said Natalia Sadowski, Director of Aesthetics and Education at Nourishing Biologicals.
The brand's all-new cleanser expertly prepares the skin for Miracular Cellular Communication™, a naturally occurring process, which allows cells to communicate through chemical messengers and cellular receptors to promote the rejuvenation of healthy and youthful skin.
Ingredients were carefully sourced by Dr. George Sadowski, M.D. and much consumer research went into it. Additional ingredients include — Sugarcane Extract: a natural source of glycolic acid (alpha hydroxy acid) to brighten and clarify; Orange Fruit Extract to minimizes pores as it brightens the skin; Green Tea Extract: is rich in Vitamins E and C, a powerful antioxidant with anti-inflammatory and astringent properties and is beneficial for maintenance of collagen formation and healthy skin; Shea Butter: softens and moisturizes skin; Cucumber Fruit Extract: soothes skin irritations and prevents water loss and Bay Laurel Leaf Extract: are a rich source of vitamin A, vitamin C, iron, potassium, calcium, and magnesium.
"Our initial product testers have been raving about it with all pre-orders delivered and sold out. To celebrate this new product launch, Nourishing Biologicals is offering a FREE Miracular Hydrating Cleanser to anyone that purchases at least $50 in Nourishing Biologicals products," said Javelyn Arvay, Chief Marketing Officer at Nourishing Biologicals.
To learn more about Nourishing Biologicals, please visit http://www.nourishingbiologicals.com.
About Nourishing Biologicals:
Introduced by George E. Sadowski, M.D., Nourishing Biologicals is the leading Bioscience company changing skin and lives by putting science into skincare. Our line of skincare therapy products is clinically validated and formulated with Nobel Prize winning technology and Miracular Cellular Communication™ to improve overall health and texture of the skin on the cellular level, delivering long-lasting results and promoting skin wellness. Unlike cosmetics, Nourishing Biologicals' highly concentrated products treat and repair the cause of aging, not just cover up the symptoms. Nourishing Biologicals, Bioscience of Beauty. Visit Nourishing Biologicals or connect via Facebook, Instagram, Twitter, YouTube or LinkedIn.