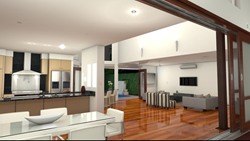 It doesn't feel like work! I love what I do everyday!
New York, NY (PRWEB) November 28, 2014
3D Training Institute (3DTi) graduate Ivana Njegomir has been through many transitions. She left Serbia with her family when she was 14 years old and moved to the United States in search of a better life. But when she finished high school, she wasn't sure what she wanted to do. She felt enormous pressure from her parents and grandparents, who had all graduated from college, and couldn't imagine how anyone could be successful without a university education.
Ivana thought about studying zoology, but when she considered the amount of time and money it would take to get a degree, the limited job opportunities after graduation, and the fact that she wasn't even sure that she would enjoy working in the field, she decided to postpone college and reflect on her passions.
She realized that she had always enjoyed drawing dragons and creatures, and playing video games. But how do you create a career based on the things you do for fun? Then Ivana had an "aha" moment. She realized that by learning 3D, she could turn her passions into a career!
"I researched many schools online. Of all the schools, 3DTi appealed to me the most, because of how straightforward all the information was. I finally found a place where other people shared my view that careers should be creative and fun. Plus, I was really scared about taking out huge loans to pay for school—but I didn't have to, to attend 3D Training Institute. 3DTi was really affordable."
3D Training Institute uses a unique project-based training methodology that combines self-paced, interactive videos and live online production sessions, where students receive immediate feedback and professional tips and tricks.
"3DTi was perfect for a beginner with no 3D experience. I learned the fundamentals of the Autodesk 3ds Max software, and how 3D modeling works. Learning how to model fast gave me a great advantage!"
"Knowing animation and rigging helps me understand what my animation colleagues need", says Ivana. She just joined I Story Animation, an in-house production studio for Laser Pegs, a toy company that makes a Lego-compatible toy that lights up. I Story is creating a series of shorts for a new series called "The Peg Heads," based on the Laser Pegs. (I Story recently hired Jeffrey Scott, who wrote Muppet Babies and Teenage Mutant Ninja Turtles.)
When Ivana is not creating fun video stories, she also gets to design new Peg Heads—and using the 3D printer in the office, gets to print them out and play with them right away. "This is the coolest thing. We get to see them and make changes before we send them to production."
"One of the happiest days of my life was the day I signed the papers to start learning 3D at 3DTi. I knew I wanted a job that I loved doing. I would tell other students, 'Follow your passion, and keep in mind that 3D is one skill that opens doors to many industries and opportunities.' Being a 3D artist is one of the best feelings ever! It doesn't feel like work! I love what I do every day!"
Gary Platt, 3DTi Advisory Board member, says, "We are very proud of Ivana. She exemplifies a new kind of student. She is following her passions and dreams, and choosing a career that will keep her challenged, fulfill her creatively, and allow her to have fun at work. 3D gives you a way to turn your play into work. You can make money while you are enjoying the things you love to do."
About 3D Training Institute
3D Training Institute (3DTi) is the leading provider of short-term production-based training programs in Autodesk Software. Popular trade magazines have recognized 3DTi as "One of the top schools, where students can put their careers on the fast track." 3DTi was one of the first companies to offer simulated on-the-job training in a live online production environment. 3DTi is an authorized Autodesk Training Center (ATC) and is licensed by the New York State Education Department (BPSS). For more information, visit http://www.3DTraining.com.