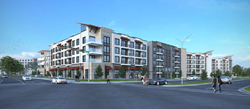 Novak and Trinity will bring another game-changing 'first of its kind' project to a market hungry for lifestyle living experiences.
GEORGETOWN, Texas (PRWEB) March 12, 2020
Novak Brothers Development has begun construction on the Summit Lofts within the award-winning, Summit at Rivery Park mixed-use community in Georgetown, Texas. The Summit Lofts is the last phase of construction in the master plan and is situated upon 3+ acres of the most prominent tract of The Summit at Rivery Park. Upon completion, it will contain 256 luxury lofts, ground level retail, a seven-story tall 494-car parking garage, state of the art fitness facility, topped off with a rooftop pool and patio area equipped with cabanas and indoor/outdoor gathering spaces. The Summit Lofts will be the premier rental product in a rapidly growing submarket currently devoid of high-density, high-end amenities within an integrated live-work lifestyle experience.
"Trinity is very excited both to partner with Novak Brothers for the first time and to be an investor in this final piece of The Summit at Rivery Park development," said Sanjay Chandra, Managing Partner of Trinity Private Equity Group. "We appreciate the work done by Novak in this development over multiple years, and believe Georgetown continues to be a wonderful location drawing from the immediate area and North Austin."
With immediate proximity to 25 miles of hike and bike trails, beautiful parkland, convenient access to major highways, shopping, historic downtown Georgetown, and all of the heavy-weight North Austin employers, The Summit at Rivery Park and Summit Lofts in particular are primed for success in this exceptional project that will stand the test of time.
Developed by Novak Brothers, The Summit at Rivery Park mixed-use development is located on 32 acres overlooking scenic Rivery Park and the North San Gabriel River. The Summit is a fully integrated master-planned development anchored by a 4-Star Sheraton Hotel and Conference Center and includes office, retail, luxury multifamily, as well as 121 Texas Brownstone™ homes, building upon one another to create a truly unique experience for the City of Georgetown and surrounding areas.
"We could not be more excited to have Trinity as our partner," said Andy Heard, President of Novak Commercial Development. "Our vision to develop high-quality, experiential living makes this partnership a perfect fit. Novak and Trinity will bring another game-changing 'first of its kind' project to a market hungry for lifestyle living experiences."
Novak Brothers is a best in class real estate operating company with industry-leading capabilities across residential, office, multifamily, retail and hospitality. We are owners and investors known for pioneering urban mixed-use developments who are trusted for our financial strength, stability and vision. We remain committed to selective acquisition, management and development of innovative, high-quality properties that create long-term economic and civic value.
Trinity Private Equity Group is an alternative asset management firm providing a world class experience for individuals seeking above average risk adjusted returns through direct investment in real estate and operating companies utilizing partners who share their values.