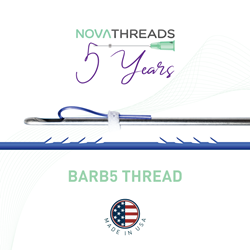 MIAMI (PRWEB) July 20, 2020
Dr. Kian Karimi, MD, FACS – Medical Director– states: "What truly sets NovaThreads® apart is the fact that they've been ever-restless at coming up with new innovations, while the competition has been playing catch up over the years."
As the pioneer of the pre-loaded PDO threads market, NovaThreads® has never stopped innovating. Dedication to continued innovation is what led to the brand's prestigious reputation throughout the aesthetic industry. Equally dedicated to producing high-quality products, Sutura Medical Technology maintains the most rigorous standards for manufacturing and sterilization.
Launching on July 15th, the new barbed threads are made right here in the US, in Miami, Florida! The Barb5's innovative cutting method, the "Dual-Angle Cut," surprisingly makes the barbs both stronger and narrower, resulting in a thicker thread with increased tensile strength. Following the success of the Barb4, the Barb5 is made with safety and efficacy in mind and now has a three-year expiration date like all other US-made NovaThreads®.
Over the last few years, NovaThreads® has taken the aesthetic industry by storm with innovative, high-quality PDO threads. The addition of this new thread will only further solidify NovaThreads®' reputation as the leading PDO threads brand and the go-to product for aesthetic practitioners looking for uncompromising quality and safety for their patients.
Stay up-to-date on NovaThreads® by following them on your preferred social media platform as we're being told to be on the lookout for a month of remarkable offers and exciting giveaways!