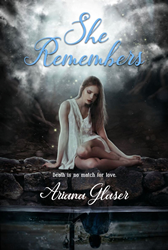 This story means the world to me, and if it makes just one person feel something they didn't know they needed to feel, then I've done my job as a writer. - Ariana Glaser
BRANDON, Miss. (PRWEB) March 15, 2021
Readers of young adult paranormal romance will love She Remembers by Ariana Glaser, a novel about a girl whose life is abruptly ended by cancer and who is reincarnated into a less than perfect life. But readers won't just love it because of the prose and haunting poignancy of the story; there's another component that adds a layer of depth— it was written in honor of a teen whom Ariana greatly admired.
"Putting something so personal out there is so scary," Ariana Glaser shared on her Instagram account. "But as an artist, you learn early in life that if you don't take risks, you'll never learn. You'll merely be left saying 'what if?' One question that I get pretty often is 'Why do you write?' And every time I respond, 'Because I want to make someone FEEL something.' This story means the world to me, and if it makes just one person feel something they didn't know they needed to feel, then I've done my job as a writer."
Ariana also shared with her publisher, Foundations Book Publishing Company, "Bella was an incredible inspiration to me; seeing someone so young whom I admired pass away was eye opening; it taught me about the importance of making life count and not taking things for granted."
Foundations Book Publishing Company released She Remembers on November 16th, 2020, and it immediately became a #1 New Release in Teen and Young Adult Diseases, Illnesses, and Injuries on Amazon in the US. It's currently available for purchase on all online retailers and is available for expanded distribution.
Ariana Glaser has been writing short stories since the age of seven. She finished writing her first novella, The World I Never Knew, at the age of eleven and published it at the age of twelve. Ariana finished writing her second novel, She Remembers, less than a year later. Ariana's other creative pursuits include acting, singing, dancing, and playing piano. She lives on Long Island, New York with her family and pets.
Instagram: ariananglaser; Twitter: @ArianaNGlaser; TikTok: ArianaNGlaser
Read more about She Remembers here:
https://www.foundationsbooks.net/book/she-remembers/
For author interviews and all media inquiries contact:
Susan Pierce
Publicist & Promotions Director
Foundations Book Publishing Company
SJ.Pierce@FoundationsBooks.net
Direct: 404-410-6956