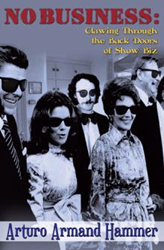 LOS ANGELES (PRWEB) September 12, 2018
"No Business: Clawing Through the Back Doors of Show Biz" (published by Archway Publishing) shares Arturo Armand Hammer's unpredictable exploits as he reveals the reality of the entertainment sphere that has defined the United States and the world at large.
In the novel, Hammer tells the anecdotes and colorful stories from his life, including a romp through Hollywood's cult of celebrity, New York's commercial art explosion and the international music scene, before finding himself cast into the dark regions of international narco-politics and the expanding brutalities defining post-war America.
"The narrative voice is fairly unique, very smart and quite accessible as well as being absurdly funny," Hammer says. "It deals directly with the problems which arise when celebrities are elevated to positions of political authority, mendacity in media, as well with the transitory nature of stardom and the hard fall from its grace."
Inspired from the author's personal experience in the media and study of international politics, the book aims to not only clarify the distinction between art and entertainment but also portray show business — the players and machinations — as it is.
To purchase and know more about the book, readers can visit https://www.amazon.com/No-Business-Clawing-Through-Doors/dp/1480861790.
"No Business: Clawing Through the Back Doors of Show Biz"
By Arturo Armand Hammer
Hardcover | 6 x 9in | 416 pages | ISBN 9781480861794
Softcover | 6 x 9in | 416 pages | ISBN 9781480861787
E-Book | 416 pages | ISBN 9781480861800
Available at Amazon and Barnes & Noble
About the Author
Arturo Armand Hammer has worked for many years in the entertainment industry. A resident of Los Angeles, he is the author of over 20 screenplays and has directed his self-penned independent feature "Dead Air" in 1998. In 2015, he authored the historical fiction novel "No Business: Clawing Through the Back Doors of Show Biz" and the nonfiction book "Zero to One Thousand – Indiscreet With the Tweet Elite." He has written hundreds of songs, essays, blogs and promotional spots. His work includes avant-garde musical composition, graphic art and prop fabrication.