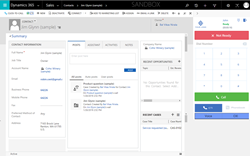 BETHESDA, Md. (PRWEB) August 11, 2020
In the present scenario, the call abandonment rate is increasing because of the technological constraints and other factors. But it is imperative to deliver customer satisfaction in high times and allow any skeptical thoughts to pile up. It's a critical time for brands to sustain their customer base. Understanding the urgency, NovelVox's integrated UCM connector and agent desktop are designed to deliver floor like productivity every day. The auto/predictive dialer offered by this customized connector is a smart solution for the smart agent operating from home.
NovelVox Agent Desktop for Cisco Call Manager empowers agents with customer information and call management essentials on a single screen for them to focus on conversation, not switching applications even in work from home environment. They assure the business can deliver a personalized experience with reduced Average Handle Time (AHT) as the agent can view customer information even before answering the call with seamless 3rd party application integration. The call manager extends smooth work from home to agents operating from anywhere across the globe.
NovelVox custom CTI Connector for UCM embeds within CRM application for personalized telephony solutions. To make customers feel important in this phase, NovelVox has emphasized on the integration that equips agents by screen popping required customer information over even before answering the call. This CTI call manager has all other CTI features, including click to dial, smart dialing, phonebook and more.
NovelVox CEO, Amit Gandhi says, "NovelVox has been continuously making an effort to improve agent and customer experience. The year 2020 has brought new challenges for all of us. To support business and customers, we are here with our work from home extended solutions for UCM. Cisco Call Manager integration with CRM will empower agents to deliver seamless customer experience even from home. In this time of increased call volume and higher abandon rate, we are focused on creating solutions where the agent works on to make every call a success. We don't want agents to get stuck with manual dialing of numbers, logging each time, swapping screen for customer information, etc. This frustration is a big-time roadblock in delivering delightful customer experience. We want contact/call centers to make the most from the CTI call manager."
This NovelVox Agent Desktop and custom CTI connector for CUCM can work seamlessly even from your office floor once things are back on track. Agents are free from the stress of learning new applications every other day but focus on call only.
About NovelVox
NovelVox is a global software company that has been developing flexible and optimized Contact Center Agent Desktops and Wallboards for Cisco, Avaya, Genesys, and Five9 for over 11 years. NovelVox has an extensive library of Cisco Finesse integrations with solutions for more than 70 applications. The Novelvox Cisco Finesse Gadget Designer is the world's only drag and drop Finesse gadget designer, empowering companies to create their perfect agent environments as and when required. With over 150 global deployments across verticals, including banking, telecoms, healthcare, government, education, and retail, NovelVox has the experience to create customized solutions for any industry.