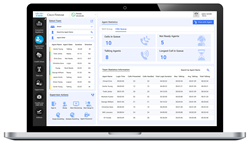 BETHESDA, Md. (PRWEB) April 01, 2020
NovelVox is known for its optimized contact center solutions that assure increased productivity and improved efficiency . For an improved performance at Cisco contact center, the company has another effective product targeting the managers, i.e., Cisco Supervisor Desktop. Supervisors at Cisco contact center can focus more on monitoring team and supporting them instead of struggling with applications. It supports all Finesse version till 12.5.
Contact centers today handle numerous calls in a day where the work pressure makes it necessary to offer the latest technology to the agent for call handling. The story does not end here; further improvement in performance depends on how well the supervisor can support the agents and monitor their real-time performance. NovelVox Supervisor Desktop equips manager with access to all updates related to agents, state, call queue, and more. The supervisor can manage team performance effectively and improve the customer experience. It offers real-time statistics of agents, teams, and call lines. Also, the supervisor is notified whenever a set KPI is breached.
NovelVox offers a long list of features, including agent reskilling for improved call resolution. According to the call volume or agent's performance, the supervisor can change the state of the agent from not ready to ready. Further, to improve customer experience, the supervisor has the option to monitor a call silently or live barge in to support agent or resolve queries as and when required. Including all the above features, this supervisor desktop allows supervisors to work from home and manage the agents working from home or via Finesse Mobile Agent App.
In addition to monitoring and management of the team, other business benefits of Cisco Supervisor Desktop include no separate admin UI for agent reskilling, precision queue, and password change. It offers integration with 3rd party applications such as WFM, Call Logger, quality monitoring tool, etc. Without interfering with the call, the supervisor can broadcast critical information to the agents.
Amit Gandhi, NovelVox CEO quoted, "We work with an intent to create optimized and flexible solutions for contact centers that improve agent and customer experience keeping the ROI high. Our Cisco supervisor desktop focusses on improving agents' performance and supporting them whenever required with live data for Cisco Finesse agents (UCCE). A supervisor can view KPI, presence notifications, Agent state logs, ACD state logs, and more. The software offers amazing features, including inter-team chat and chats with the supervisor, since we believe communication is the best way to deal with all issues. Cisco contact center supervisors will no more require to switch applications and focus just on team performance management. "
About NovelVox
NovelVox is a global software company that has been developing flexible and optimized Contact Center Agent Desktops and Wallboards for Cisco, Avaya, Genesys, and Five9 for over 11 years. NovelVox has an extensive library of Cisco Finesse integrations with solutions for more than 70 applications. The Novelvox Cisco Finesse Gadget Designer is the world's only drag and drop Finesse gadget designer, empowering companies to create their perfect agent environments as and when required. With over 150 global deployments across verticals, including banking, telecoms, healthcare, government, education, and retail, NovelVox has the experience to create customized solutions for any industry.