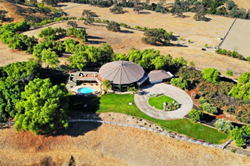 Where Real Estate Is Never Boring!
POMPANO BEACH, Fla. (PRWEB) December 01, 2020
November's Top 10 Celebrity Real Estate News
"Justin Bieber Lists Beverly Hills Home"
Less than two years after Justin Bieber and Hailey Baldwin bought their Beverly Hills honeymoon mansion for $8.5 million, they have put the five-bedroom home on the market at $8.995 million. Justin and Hailey recently purchased another Beverly Hills home for $26 million where they are now living.
"Leonard Bernstein's New York Penthouse"
The Park Avenue penthouse of famed composer Leonard Bernstein, where he hosted some of the world's most famous people of the 1970s including top leaders of the Black Panther Party, is now on the market. Priced at $29.5 million, it is listed with Bonnie Chajet, Allison Chiaramonte and Tania Isacoff Friedland of Warburg Realty, Manhattan.
"Ray Kroc Ranch Hits Market"
A 554-acre California ranch that was once owned by McDonald's Ray Kroc has come on the market at $29 million. Kroc bought the spread in the 1960s for $600,000 and added considerably to the estate using it as a retreat and think tank where McDonald's menu items McRib and the ever-popular Egg McMuffin were conceived. The listing agent is Maurie McGuire with Coldwell Banker in Montecito.
"Ellen Sells Another Home"
Ellen DeGeneras has sold her Montecito home for $33.3 million, less than a month after listing it at $40 million. The entire estate includes an 8,200-square-foot main home, a 1,400-square-foot guest home, 400-square-foot guard station and a separate 720-square-foot gym. Ellen, who is one of the celebrity world's most prolific home flippers, bought the home in 2018 for $27 million and then spent about $2 million more on updates and security additions.
"Chelsea Handler's Bel-Air Home"
Chelsea Handler has reduced the price on her Bel-Air home to $10.5 million - a reduction from when she put the home on the market in 2018 for $11.5 million. Handler paid almost $6 million when she bought the home in 2010 and then spent significantly on upgrades.
"Jeff Foxworthy's Not-a-Redneck Home"
Jeff Foxworthy's two children are grown and left the family's suburban Atlanta mansion, so he is downsizing and has put their 14,461-square-foot home on the market at $2.999 million. Built in 2001 on almost four acres, the property includes five bedrooms, four baths, a pool, spa and waterfall. Jeff is moving to a smaller home in the Atlanta area and also owns a 3,000-acre farm in Georgia.
"Kate Gosselin's 'Kate Plus 8' Ranch"
The Kate Gosselin home seen millions of times on the reality-tv-hit "Kate Plus 8" show is for sale at $1.3 million. With over 7,500 square feet on 23 acres, the Pennsylvania home includes a family room, horse barn, two washers, two dryers, three ovens and six bedrooms for Kate and her now 20-year-old twins and 16-year-old sextuplets.
"John Lennon's Palm Beach Home Sold"
A Palm Beach mansion that John Lennon and Yoko Ono purchased in 1980 for $725,000 was renovated by Ono after John's death. She sold the home in 1986 for $3.15 million. The home was recently on the market again at $47.5 million and sold for $36 million.
"LeBron Buys Hepburn Home"
LeBron James has closed on a Beverly Hills home that was previously owned by Lee Phillip Bell, who created the soap opera "The Young and the Restless" and was once the home of Katharine Hepburn. LeBron paid $36.8 million for the 1930's Mediterranean-style home.
"Simon Says Sell Two Times"
Simon Cowell has sold his second Beverly Hills property in the last few months. After selling his longtime Beverly Hills home for $25 million, he has sold another Beverly Hills home for $14.5 million. Simon bought the home in 2011 for $15.5 million.
For more celebrity home news and celebrity home video tours, visit TopTenRealEstateDeals.com.