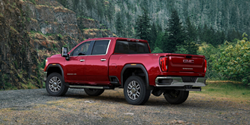 ORLANDO, Fla. (PRWEB) October 31, 2019
The newest Chevrolet and GMC commercial trucks are expected to be introduced at Carl Black Orlando on November 1. The unveiling is expected to include a variety of new heavy-duty trucks and fleet vehicles. With the expansion of inventory, more drivers will be able to find the vehicles they need at the Orlando dealership.
Starting in November, the Orlando dealership will add commercial vehicles like Chevrolet Silverado 3500 and GMC Sierra 3500 models as well as cargo and passenger vans. Additional fleet vehicles, including 4500, 5500, and 6500 models, will make their way to the dealership starting in January 2020. The expanding commercial vehicle lineup can be viewed in the Carl Black Orlando online inventory, https://www.carlblackoforlando.com/new-vehicles/commercial/.
Carl Black Orlando currently sells new Chevrolet, Buick and GMC cars, trucks and sedans and offers a full lineup of pre-owned vehicles from a variety of manufacturers. The dealership offers monthly Sign & Drive Specials as well as offers and incentives to help make every model in their inventory affordable to shoppers.
Buyers considering purchasing a new commercial vehicle can stop by the Carl Black Orlando dealership to test drive the lineup of models and get more information about available inventory. The on-site service department will be able to answer any questions buyers may have about the vehicles or their maintenance needs.
Individuals looking for more information about the commercial vehicles coming to the Orlando dealership can contact a member of the Carl Black Orlando staff by phone (888) 502-0763 or visit https://www.carlblackoforlando.com. Carl Black Orlando is open seven days a week and is located at 11500 E. Colonial Dr, Orlando, FL 32817. The sales department is open from 9 a.m. to 9 p.m. Monday through Saturday and from 11 a.m. to 6 p.m. on Sundays.