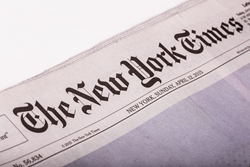 In our open letter, we call upon President Trump to take responsibility. First and foremost, he is responsible for conserving our natural resources.- Dr. Sven Jansen
NEW YORK (PRWEB) September 24, 2019
The lack of U.S. attendance yesterday at The United Nations General Assembly's Climate Action Summit in New York represents negligence toward the welfare of the planet. NOVENTI has published a public call to action aimed at President Trump's inaction with regard to global climate change.
NOVENTI is a global economy driver, being Germany's largest pharmacy inventory management company as well as Europe's largest billing company. The leadership at NOVENTI has made climate-neutrality and sustainable entrepreneurship a cornerstone of their corporate goals.
The 2019 UN Climate Action Summit began yesterday.
However, there was a noticeable voice missing: President Trump. This lack of participation is a geopolitical mark against the United States, a country at the forefront of much of the global economy.
In an open letter in yesterdays New York Times, the leadership at NOVENTI calls on President Trump to take action. They believe that everyone must be engaged in this process. NOVENTI is part of the delegation visit of the German Senate of Economy and the Federal Ministry for Economic Cooperation and Development.
Dr. Sven Jansen says: "In our open letter, we call upon President Trump to take responsibility. First and foremost, he is responsible for conserving our natural resources. No one can escape the climate. With this, we want to show that everyone is responsible for environmentally conscious behavior. President Trump must not evade his responsibility. At the same time, every company must do its part to reduce its effects on the environment. We can not solve the climate crisis alone – but everyone can be an integral part of a more sustainable future."
About NOVENTI:
The NOVENTI Group is the market leader in the digital healthcare market in Germany, and with over 20 billion Euros of prescription billing volume; it is Europe's largest billing company in healthcare. The NOVENTI Group brings one thing in common with its approx. 2000 employees and 25 independent individual companies: All of them operate in the healthcare market with the core target groups like pharmacies, other service providers, nursing services and doctors. Along with financing security, the company offers the network platform, which facilitates important companywide transfer of know-how. In addition, the individual companies operate independently in their operational business activities. Sustainability is one of the basic principles of the corporate strategy; NOVENTI was awarded as a climate neutral company and as a "Great Place to Work".
NOVENTI Group
Tomannweg 6
D-81673 Munich
Telephone +49 89 43184-500
http://www.noventi.de
Contact:
Dr. Silvio Kusche
Divisional Director Marketing (CMO)
Tomannweg 6 – D-81673 Munich
Silvio.Kusche@noventi.de