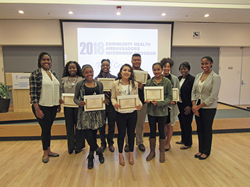 OAKLAND, Calif. (PRWEB) March 12, 2019
Physicians Medical Forum (PMF), aims to expand the pipeline and the number of African American/Black, Native Americans and underrepresented minority students who want to become physicians. PMF, a non-profit organization, provides a network that encourages high school, community college, university/college and post baccalaureate students to become physicians and hopefully pursue their careers in medicine in the Oakland/San Francisco Northern California Bay Area.
To that end, PMF's Community Health Ambassadors Internship Program (CHA) is a 5-week program that provide students with a framework to begin that journey towards becoming physicians. As a community-service-learning program, students will received lectures from prominent physicians, receive information to assist them in preparing for medical school, participate in group discussions about public health and health disparities, learn basic research skills and work in a teams to develop a video or power point presentation on a health topic of their interest.
PMF receives funding from The California Wellness Foundation and the Kaiser Permanente Northern California Community Benefit Programs.
Kathryn E. Malone, M.D., (Family Medicine) and Vice-President, Physicians Medical Forum stated that students explored a variety of Primary Care medical topics and other healthcare disparities. Dr. Malone said she also discussed with the students "the critically important role of the physician in patient's health and wellness and why they must seek and establish networks and mentorships that will provide them with better insight into the real world of medicine".
Stalfana Bello, M.P.A., Executive Director, Physicians Medical Forum said, "The Community Health Ambassadors Internship Program provided the students, who are first generation doctors in their families, a snapshot of what it takes to become physicians or pharmacists. Most of the students attend our Doctors On Board Pipeline Program and the internship is a natural next step to help students move forward in their journey to become doctors."
Ugomma Eze, CHA Program Coordinator and 4th year M.D./PhD Candidate at UCSF School of Medicine stated that "the Ambassadors conducted interviews and created health educational video presentations for their community-service-projects. Students focus these presentations on why it is important for to become physicians and the positive impacts towards improving health and wellness in the communities they hope to serve."
ABOUT PHYSICIANS MEDICAL FORUM (PMF):
The Physicians Medical Forum is an Oakland, CA based non-profit 501(c)(3) whose mission is to encourage recruitment and retention of African American/Black and underrepresented minority physicians who seek to eliminate health disparities; improve access to care; and maintain diversity within the profession, thereby, improving the quality of healthcare for the community overall.
Other PMF programs and initiatives include: Doctors On Board Pipeline P r o gr a m; Doctors Ro c k Workshop Series on Mentoring; MCAT Prep with Princeton Review; Interviewing skills and writing personal statements; scholarships and stipends for post baccalaureate, medical students and residents; Scholarships for Visiting Elective Residency Programs at UC Davis and UCSF Schools of Medicine and UCSF Benioff Children's Hospital Oakland; physician education and development; networking with legislators and medical organizations and community outreach programs. http://pmfmd.com
EDITORS: The following are available for interviews. To arrange interviews, contact: Stalfana Bello | 510.562.5560 | ExecutiveDirector@PMFMD.com

Stalfana Bello, M.P.A, PMF Executive Director
Albert L. Brooks, M.D., PMF President
Ugomma Eze, CHA Program Coordinator, UCSF School of Medicine, Medical Student
Kathryn E. Malone, M.D., PMF Vice-President
Alden McDonald, M.D., PMF Board of Directors
CHA Student Interns