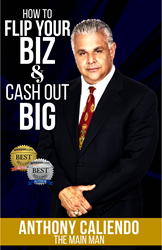 I'm now in a position to help business owners refine their exit strategies and do some course correction before they list their business for sale."
DELRAY BEACH, Fla. (PRWEB) July 07, 2020
Entrepreneur, best-selling author and motivational speaker Anthony Caliendo, "The Main Man," has written the ultimate guide for "main street" business owners looking to sell their business and make maximum dollar; in other words: flip it and cash out. BIG. And he's released it just in the nick of time.
The year 2020 is going to be one for the history books. Caliendo wants business owners to know that now is the right time to seriously start thinking about their exit strategies and start prepping their businesses for sale to serious buyers that will take them to their next level of profitability. But Caliendo's approach is different. Instead of bombarding business owners with incomprehensible details that will confuse and demotivate them, he tells them the real story and the "real talk" way to approach the business sales process.
Not only does Caliendo tell business owners the true story about selling their businesses, he helps them get it done. Caliendo, known as "The Main Man" in the South Florida mortgage and real estate markets for almost 2 decades, is also a premier business broker, listing and selling millions in sales volume over the past several years.
Caliendo says, "I've sold businesses that probably shouldn't have sold, or sold for much less, because the owners were unknowingly killing the value of their businesses year after year. With that said, I'm now in a position to help business owners refine their exit strategies and do some course correction before they list. I'm all about helping them maximize the value so they can reap the rewards of all their years of sacrifice, dedication and hard work as business owners."
How to Flip Your Business & Cash Out Big, published by Tiger Shark Media USA is available in paperback on Amazon, and will also be available on Walmart.com, BarnesandNoble.com and other global online retailers. Caliendo is also offering the eBook for free download at http://www.flipyourbiz.com specifically for business sellers looking to get started with the sales process today, further motivating them to take action by offering them a free business valuation worth $2500. "A lot of business owners want to sell, but have no idea how much their business is even worth," says Caliendo. "This is the starting point of the sales process – the business valuation. Without it, there is no sale!"
Sellers will be thoroughly informed yet delightfully entertained by Caliendo's style of delivery in this book. He doesn't just talk about being the best in the business, he candidly backs it up by illustrating how his own successes and failures in business ownership have catapulted him to the top of his game, which landed him smack dab in the middle of the business brokering industry. This book will give readers the insight and the tools they need to get started and The Main Man will be on the other end, ready to take their calls personally, so they can Flip Their Biz & Cash Out Big!
About the Author
Anthony Caliendo "The Main Man" is a successful entrepreneur and award-winning, best-selling author & motivational speaker. He is the author of the international best-selling, multi-award-winning book, The Sales Assassin: Master Your Black Belt in Sales. He is also a featured Thought Leader® and co-author of the book Cracking the Code to Success with Brian Tracy and The Recipe for Success with Jack Canfield. He's generated hundreds of millions in sales revenues in a string of successful companies including mortgage, real estate, consumer goods and business brokering. He's sold millions in businesses and real estate.
Caliendo has showcased his sales strategies on radio and on CBS, NBC, ABC and FOX and a contributing writer in industry mags including Salesforce, Small Biz Daily, The Canadian Business Journal, Focus Magazine, TK Business Magazine, AMA Playbook, In Business Magazine and Digital Journal. He lives and works in South Florida with his wife, Lynette and their eight children and 2 grandchildren.
For more information please visit http://www.flipyourbiz.com or contact Anthony Caliendo at 1-800-THE-MAINMAN.