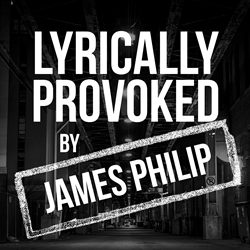 TROY, Mich. (PRWEB) March 10, 2020
What started out as an original form of personal expression and catharsis has quickly become an innovative global podcasting sensation. LYRICALLY PROVOKED by James Philip has now been listened to in 100 countries all around the world.
From Asia to North America, and South America to Europe, listeners from all over the world are tuning into LYRICALLY PROVOKED to hear James' thoughts and stories, as inspired by song lyrics, literature, and poetry.
In recent episodes, LYRICALLY PROVOKED featured the songwriting and lyrics of recently released smash hits, including Drake's 'When To Say When' and Katy Perry's 'Never Worn White.' The popularity of these episodes has driven incredible growth for the podcast series, which has also accumulated close to 200,000 views on James Philip's YouTube Channel.
LYRICALLY PROVOKED, an original podcast series from serial entrepreneur, angel investor, and author James Philip, gives listeners thought provoking insights driven by song lyrics, pop culture, and literature delivered in an off-the-cuff manner. As life often imitates art, James brings a unique perspective based on real life that is inspired from music and other spoken word.
In each episode of LYRICALLY PROVOKED, James hits shuffle on his music player and, drawing inspiration from lyrics and words from the song, riffs on life, relationships, love, business, entrepreneurship, and everything in between.
LYRICALLY PROVOKED is published multiple times each week, with James dropping a new episode when inspiration hits! As a result, fans and listeners are encouraged to subscribe to the podcast to make sure they don't miss a single episode! LYRICALLY PROVOKED is now available on Apple Podcasts, Google Podcasts, Spotify, YouTube, and all other podcast platforms.
About James Philip:
The founder of HEAVY HITTER HOLDINGS, James is the owner of more than a dozen companies and brands. When he's not working on his companies, James splits his time between writing books, recording podcasts, and investing in the next generation of great business ideas. Over the years, James has been quoted in Fast Company, Business Insider, The Chicago Tribune, American Business Forum, and Advisors magazine.