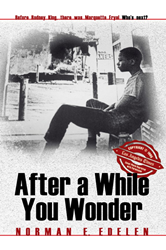 "A well-constructed, authentic, engrossing tale with clear demonstration of the author's literary skills, research commitment, and delightful use of the English language." - John R. Nolan, reviewer
NEW YORK (PRWEB) April 27, 2020
"…The writing style is strong, eloquent, articulate and one is pulled into the story from the first few lines. A well-constructed, authentic, engrossing tale with clear demonstration of the author's literary skills, research commitment, and delightful use of the English language. Norman E. Edelen has displayed a unique style, and congratulations on a great book."- John R. Nolan, Queensland, Australia
"A thought-provoking, gripping, and graphic account of service as a black police officer in Los Angeles in the late 1950s and 1960s ... There are touching moments as the main character develops relationships with people living in Watts that come to him for help and advice. You feel the slights and indignities endured by black officers who could not even…ride in patrol cars with a white officer." – R.D. Moore, author, Chopper Caper
"Great book…at times funny (very funny), other times sad and disturbing. Detailed and descriptive. Clearly the writer has an understanding of the police department politics and what it was (and probably still is) like for African-American police officers." – Teri Elliot
"I actually fell in love with one of the characters!" – Veronica Rone
"Great book! This book had so many great factors involved … I so enjoyed all the story telling of the characters and couldn't wait to get to the next chapter. Very captivating and so many different emotions which made is very easy to relate to. The character descriptions were so vivid that I actually felt like I could see them." – Ramos
"Informative read … Some of the paragraphs were sheer perfection in terms of developing word pictures and emotions. After a While You Wonder is a good title because the book opens up, in a quite subtle way, some of the underlying unrest that occurs in large metropolitan areas." – L. Bowman
Written by a former L.A. cop, this much acclaimed novel is set in 1997, when five former black Los Angeles police officers gather for lunch and reminisce about their lives at the 77th Street Division during the turbulent 1960s. They discuss the riots, racism, and the discrimination they witnessed over the years.
Meeting just a few days after the conviction of O.J. Simpson in the civil suit for the wrongful death of Nicole Brown Simpson and Ronald Goldman, the retired cops realize that the racial volatility in L.A. is still prevalent after 30 years, and After a While You Wonder if things will ever change.
This is the first novel in the "After a While You Wonder" trilogy. The second book is "Tuesday After Next" and the third book is "It Don't Matter: Amor Regge Senza Legge (Love Rules Without Rules or Laws)."
About the Author: Norman E. Edelen has been writing professionally since 1966, when he wrote educational films on black history. He was a writer for "Serendipity," a children's Saturday morning TV series that won an Emmy award; was writer and associate producer of "Preacher Man," a documentary nominated for an Emmy, and was co-writer/producer of the bicentennial special "The Greatest Story Never Told." The author lives in Southern California.
"This is the first novel in an intriguing trilogy that features danger and romance in various locales. We are proud to be the publisher," said Robert Fletcher, CEO of Strategic Book Publishing and Rights Agency.
AFTER A WHILE YOU WONDER (ISBN: 978-1-63135-350-5) is now available for $17.50 and can be ordered through the publisher's website:
http://sbprabooks.com/normaneedelen or at your favorite book seller.
WHOLESALERS: This book is distributed by Ingram Books and other wholesale distributors. Contact your representative with the ISBN for purchase. Wholesale purchase for retailers, universities, libraries, and other organizations is also available through the publisher; please email bookorder@sbpra.net.