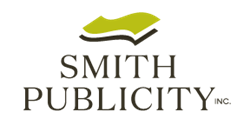 We notice authors in every genre seeking information about agents, and the benefits of working with a literary agent.
CHERRY HILL, N.J. (PRWEB) March 11, 2021
Smith Publicity, the world's leading book marketing firm, is a resource for answers to commonly asked questions about the publishing industry and today addresses the role of literary agents. As authors consider agents, they often want to know how to find a literary agent, the role agents play in the contractual process, and how each author can find the most effective agent for their project. "We notice authors in every genre seeking information about agents, and the benefits of working with a literary agent," observed Dan Smith, Founder, Smith Publicity. "In response to the many inquiries, our team members provide insight to our clients and authors in general."
What Literary Agents Do and are Known for Generally
Literary agents represent writers and their work to people both inside and outside the book industry. It naturally includes publishers but often extends to film and television producers, studios, etc. Agents nearly always help an author negotiate contracts and act as a liaison to others on the author's behalf. For example, agents can handle challenging conversations between authors and publishers; the best ones know how to act as a buffer in difficult situations and keep good relationships intact.
Many authors also look to their publicity agents to track royalties and sales once a book is published and handle various business management tasks. An effective agent frees up an author to devote more time to writing and book publicity – the media interviews people, not books. Therefore, authors need to be available for publicity. It's also crucial for authors to remember that agents are advocates, negotiators, managers, and advisors, but their presence does not guarantee a bestseller. Successful books rely on excellent content and a strong book marketing program to support their launch and initial sales period.
How Literary Agents and Authors Find Each Other
Referrals are a significant part of the agent selection process. Often, they come as word-of-mouth recommendations from within an author's professional network. For instance, one author has a successful experience with a literary agent and recommends the agent to another author. Blind queries do occur but often are not recommended; authors with connections to an agent get farther – especially for those needing pitches to major publishing houses.
Also, some agents proactively seek projects, depending on the editors they work with and what is selling at the moment. If editors want a particular kind of book, agents will seek an author that fits. Today many authors also ask about the role of social media in the process, and the answer is that it can be a part of the process, most commonly on Linked In.
What Literary Agents Look for and Who They Decide to Work With
Just as no two authors are alike, each literary agent (or agency) is unique. Some specialize in fiction and work exclusively with novelists. Others focus on nonfiction and may concentrate on specific genres where they have developed specialized expertise. Most agents provide submission guidelines for authors who want to be proactive with outreach. Many agents closely examine both books and an author's credentials when evaluating a submission. It makes it vital for authors to have a well-developed platform (i.e., what comes up in a Google search of the author's name?) It includes a well-designed website, social media, professional photos, etc. Agents also like to see writers actively engaging with followers on social media.
Authors are also strongly advised to send edited books with query letters to literary agents -- no first drafts. It's also wise to research agents before reaching out. Personalizing the outreach and making sure a book is one they would work with goes a long way.
Carefully Selecting the Right Agent is Crucial
Well-respected agents add a lot to professionalizing an author's presentation, pitch, and platform. It's an important decision and not one an author (or agent) should make impulsively. An agent and their team will handle the sensitive and vital areas of negotiating and mediating conflict -- and give an author access to their many connections. They expand a writer's team and provide a support network that helps throughout the process. As with any business relationship, much depends on personal chemistry, and it's best for both author and agent to become well acquainted before entering an agreement.
Many literary agents recommend Smith Publicity to authors in need of book marketing and publicity services. In turn, Smith suggests agents to authors who want and need professional representation. It puts the Smith team in the position of knowing many agents and understanding their specialties and interests. It helps the company act as an information resource in this area and most other areas of the traditional and self-publishing industries.