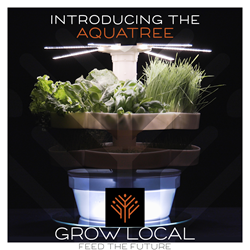 We've seen plants ready to harvest in just 10 days! The AquaTree is the future of sustainable gardening.
CHARLOTTE, N.C. (PRWEB) July 16, 2020
The AquaTree is changing the landscape of indoor gardening! This innovative smart garden allows anyone from any climate to grow their own food all year long. Pre-order on Kickstarter by August 15, 2020 and save up to 40%.
When you use the AquaTree, your plants will receive the right amount of water and light every time. The custom seed mats help grow your produce and herbs without soil and cuts grow times up to 50%.
The AquaTree is great for people who live in cold-climate regions; who want control over what's in their food; who live in cities with limited garden space; who cannot physically care for an outdoor garden. It's so easy, anyone can successfully grow their own food!
Our mission is to change the way the world thinks about growing food, one mind and one plant at a time. We believe in giving back, so we've partnered with seed companies that donate one pack of seeds to charities and community gardens for each pack purchased. Plus, a portion of our sales will go towards helping to grow local businesses.
Help us come to market and pre-order your AquaTree on Kickstarter.