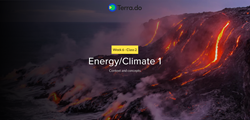 "We built a platform that allows talented individuals from around the world to develop the skills and network needed to jump into the climate fight.
STANFORD, Calif. (PRWEB) January 21, 2021
There has been an explosion of funding for climate tech in the past decade, and several global multilateral funds​ have pledged to commit vast resources towards climate causes. Additionally, many of the world's largest companies have ​signed a pledge​ to meet the Paris Agreement goals ten years early.
While these endeavors are promising, what's missing is a global network of action-oriented climate professionals with the skills needed to maximize the impact of these initiatives.
Terra.do​ is building that network.
The Mission
Terra.do's mission is to get 100 million climate-conscious people substantially working on climate change solutions relevant to them by 2030.
The company raised $1.5M in early funding from a group of climate-conscious angels in August 2020 and has seen 100% quarter over quarter growth in revenue since the company launched earlier in the year.
Terra.do seeks to accomplish its mission through three steps:
● Learning - T​he foundation of Terra.do is its mission-focused online educational platform, managed by co-founder and climate expert Dr. Kamal Kapadia. The fully remote courses train professionals on the complexities of the global climate landscape. Each program is curated to a specific climate challenge and taught live by world-class instructors and guest lecturers like the leading climate scientist Dr. Charles "Chip" Fletcher and climate investor Sierra Peterson. The flagship program is ​Climate Change: Learning for Action​, a 12-week intensive course covering every major angle of the climate landscape.
● Network -​ Through these courses, the company is building a robust global community of climate-aware individuals that want to engage in climate action. Participants, called "fellows", can expand their climate networks by tapping into a deep base of alumni, instructors, climate experts, and global partners such as Techstars. They also have access to career-focused resources, such as job fairs and mentorship programs.
● Action ​- Fellows and alumni engage with the climate solutions world in a variety of ways, including internships, projects, climate jobs, and entrepreneurship in climate. Alumni from early cohorts have gone on to found organizations such as Climate Changemakers, landed full-time positions in climate-aware companies such as Sidewalk Labs, and are running hands-on internship programs for new fellows.
"A massive wave of climate jobs is coming that will require all kinds of skills," states Anshuman Bapna, founder and CEO of Terra.do. "We built a platform that allows talented individuals from around the world to develop the skills and network needed to jump into the climate fight. This infrastructure, which is the only one of its kind, will be critical to creating a high-impact climate workforce that can solve the diverse problems our world will face in the coming decades."
The Story
The company was founded in early 2020 after Kamal's brother-in-law randomly overhead Anshuman discussing climate in a cafe in Bengaluru, India. The two were introduced virtually, and leveraging their skills and networks, built a company designed to be 100% remote. In fact, the entire Terra.do team has never met in person.
While the distance appears to many as an obstacle, the company's structure lets it thrive despite the challenges presented by COVID-19. "Our company and our community were designed to be completely online and remote from day one to enable every corner of the world to collaborate asynchronously on the problem," states Bapna. "In that regard, we're light years ahead of other real-world platforms that have been challenged during the pandemic."
There was also a founding focus on diversity, inclusion, and a big-tent approach to climate solutions. This approach is baked into the company's mission that 100 million minds from all over the world are necessary to create a transition to a post-climate-crisis world. Reflecting this is the company's makeup of employees, instructors, fellows, and alumni from over 25 countries.
New Courses
Terra.do will launch over 25 new courses this year and is excited to announce the lineup for Q1 2021:
● January 25: The New Hydrogen Economy
● February 1: Climate-Smart Buildings
● February 8: Climate-Resilient Agricultural Value Chains
● February 21: Climate Camp for VCs and Investors with Techstars and Moxxie
Ventures
● March 4: Climate Change: Learning for Action (Flagship Course)
● March 13: The Climate Justice Workshop
These courses kick-off a banner year of activity and cover several of the most in-demand climate areas. ​Terra.do's team of skilled instructors provide intensive, personalized teaching, and support to small groups of fellows. Students also receive 1-on-1 mentoring from 100+ experts who cover 50+ professional climate sectors. Terra.do's courses regularly feature globally recognized guest speakers from a range of countries.
Job Fair
Terra.do also announces its ClimateTech Job Fair, which occurs on Friday, March 5. The job fair, which is the world's largest online climate career event, is a live event that will match recruiters with job seekers looking for tech-focused roles. It's a unique opportunity for those looking to interact with a massive network of individuals who are about climate work.
Terra.do's first online job fair in November 2020 attracted companies such as Pachama, ZeroAvia, and Myst.AI, and over 1,000 job seeker registrants. This expanded version is expected to attract double that figure.
Dozens of organizations will be posting hundreds of technology jobs in fields such as software engineering, data science, product management, design, and more. Hiring managers and participants will have the opportunity to interact with one another in real-time via Slack and Zoom.
If you'd like to participate, as well as learn more about Terra.do's courses, please visit:
https://www.terra.do