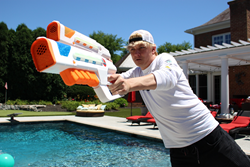 At Nowstalgic Toys, we want to bring new, innovative inventions to the market while also keeping the passion for classic toys alive
CANAL WINCHESTER, Ohio (PRWEB) August 21, 2018
Today Nowstalgic Toys launched the One Second Soaker, a water gun that refills in just one second to ensure the action never stops in fun-filled water battles while giving its user an upperhand. It is now available on Indiegogo starting at $33.
To use the soaker, users simply pull the trigger back, dunk it in water, and aim and fire to drench opponents. The One Second Soaker also boasts a 30-foot spray range, spray and single shot modes, and an air pump for added water power.
"I wanted to create something that ensures the fun never stops. And now it doesn't have to - I can fill up 10 of these in the time it takes to fill one regular water gun," Nowstalgic Toys CEO and Founder Carl Zealer said. "I found it crazy that other water guns aren't like this."
The soaker's secret is in its simple but effective one-of-a-kind set up. If you've ever sealed the top of a straw with your finger, you will have noticed liquid stays inside the straw. The One Second Soaker works in the same way. When the trigger is pulled back, air is prevented from entering and from pushing a downward force on water. This leaves just the upwards force of air pressure from below to efficiently fill the gun's water chamber in one second
The One Second Soaker holds 50 fluid ounces and can also be refilled with a tap, hose, or pool of water through an opening in the back above the trigger. Colors include white and blue, white and red, black and blue, white and orange, and white and green.
The One Second Soaker is the first water gun by Nowstalgic Toys, a specialty toy company that has sold over 30 million toys in total to retailers in 27 countries. Carl Zealer has been selling toys for the last 13 years. The company was founded by Zealer in 2004 when he discovered a love for bringing the novelty and fun of retro toys to a modern-day audience.
Zealer is known for his app, Smile Inc, a fun character game based on climbing the "corporate ladder", that has earned 5 star reviews and millions of downloads. He also made headlines for scoring his own character on The Simpsons in 2015, a prize for buying the highest number of raffle entries (50,000) from the A Night of Too Many Stars autism fundraiser.
"At Nowstalgic Toys, we want to bring new, innovative inventions to the market while also keeping the passion for classic toys alive," said Zealer. "I designed the One Second Soaker to unleash the kid in all of us, because who doesn't love kicking butt in a water fight?"
The One Second Soaker will be available August 20 with expected delivery on December 20, 2018. For a full rundown of their pledges, visit the Indiegogo page. Media wishing to interview their personnel should contact PR agent, Jackson Wightman at +1 (514) 605 - 9255.