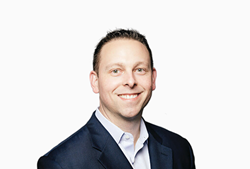 "Gullaksen's proven leadership in performance marketing will help scale NP Digital through the next stage of growth."
SAN DIEGO (PRWEB) April 28, 2020
NP Digital, a leader in performance marketing, announced today that Michael Gullaksen has joined the agency as its CEO.
Gullaksen, former President of iProspect and CEO of Covario (acquired by iProspect), succeeds co-founder Mike Kamo in the role. Gullaksen's proven leadership in performance marketing will help scale the company through the next stage of growth, while Kamo continues to support NP Digital as Chief Executive Officer of NP Brands.
Gullaksen has 20 years of experience as a leader, product visionary, and innovator in performance marketing. His most recent role was President of iProspect, where he focused on agency acquisitions and operational excellence across client services, product innovation and technology to support agency growth. Gullaksen joined iProspect through the acquisition of Covario where he held the position of Co-CEO. Prior to running Covario, he spent nine years at iCrossing as the Senior Vice President of Search.
Gullaksen joins long time business associate and friend Jeff Johnson who serves as President of NP Digital. The pair have a long track record of success dating back to 2001. They worked together through 2014 when, as Co-CEO's of Covario, they sold the firm to Dentsu Aegis. Under their leadership, Covario received OMMA's Search Agency of the Year award three straight years 2011-2013.
"I couldn't be more delighted that Mike has joined NP Digital. His years of successful experience align with the needs of our clients and goals for our business moving forward," said Neil Patel, co-founder of NP Digital. "Mike shares the passion that I have, and NP Digital has in helping brands connect with their customers in the moments that matter."
Gullaksen has a reputation for creating award-winning performance marketing teams and developing proven digital strategies that drive business growth for Global 1000 clients. Gullaksen also served for eight years on the Board of Directors and as President for SEMPO (Search Engine Marketing Professional Organization), which was acquired by the Digital Analytics Association in 2020.
"We see tremendous opportunity for NP Digital, and I'm thrilled to be joining this dynamic group of experts with a focus on high touch client service and having fun while doing it," said Gullaksen. "With the landscape more complex than ever, NP Digital is focused on the critical need to close the gap between performance marketing and consulting while balancing agency goals with customer needs. Without each, true partnerships cannot be achieved with clients."
About NP Digital:
NP Digital views marketing through a consultative lens that takes a holistic view when applying specialist execution to building meaningful partnerships. These partnerships include some of the world's most important Fortune 500 brands in addition to mid-size challenger-type organizations.
NP Digital has offices in San Diego and Chicago. For more information visit npdigital.com