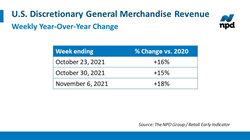 "Consumers are clearly rushing to get some product before it's gone, but that is not the sole source of this year's early holiday shopping vigor," said Marshal Cohen, chief retail industry advisor for NPD.
PORT WASHINGTON, N.Y. (PRWEB) November 15, 2021
Momentum in discretionary general merchandise spending that built though the pandemic appears to be enduring as the 2021 holiday shopping season progresses. According to the latest Retail Early Indicator data from The NPD Group, the first month of the expanded holiday shopping season finished strong, and the traditional season kicked off with even more intensity.
Despite the possible lack of supply, consumer demand remains, although focus has shifted. Pandemic highflier categories are losing steam from last year as consumers turn their spending to the new areas of focus, like fashion and beauty, that are gaining ground.
Pre-pandemic comparisons point to a potentially front-loaded holiday season for some categories. Revenue for the week ending November 6, 2021 grew 19% over the same period two years ago, and unit sales were up 4%. Holiday favorites like toys, small appliances, and tech experienced high double-digit growth over 2019 results during these early weeks. At the same time, more recent increases in fashion and beauty have yet to translate into consistent gains over pre-pandemic levels.
"Consumers are clearly rushing to get some product before it's gone, but that is not the sole source of this year's early holiday shopping vigor," said Marshal Cohen, chief retail industry advisor for NPD. "The product shift that came in September and continued through October points to enduring consumer demand, making way for gains in a different set of categories than those that fueled much of last year's growth."