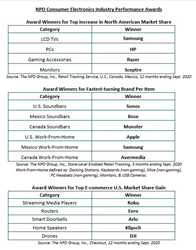 "Congratulations to all award winners – we wish everyone a healthy and successful 2021."
PORT WASHINGTON, N.Y. (PRWEB) January 04, 2021
To kick-off 2021, The NPD Group's technology division announced the winners of its annual Consumer Electronics Industry Performance Awards. This year's awards acknowledged consumer electronics brands that achieved: the top increases in market share in North America[1] and the fastest-turning brand per item in the U.S., Canada, and Mexico[2], according to NPD's Retail Tracking Service; as well as the top increase in online market share in the U.S.[3], according to NPD's Checkout service.
"After an unprecedented year, we at NPD are excited to take a moment to acknowledge the many silver linings the consumer technology market experienced in the midst of the pandemic. In this fifth year of our CE Industry Performance Awards we are recognizing brands that saw success providing consumers with products that enabled them to work and learn from home, as well as stay entertained and connected in their downtime," said Ian Hamilton, President, Technology Sector, The NPD Group. "Congratulations to all award winners – we wish everyone a healthy and successful 2021."
NPD Consumer Electronics Industry Performance Awards
Award Winners for Top Increase in North American Market Share
Category: Winner
LCD TVs: Samsung
PCs: HP
Gaming Accessories: Razer
Monitors: Sceptre
Source: The NPD Group, Inc., Retail Tracking Service, U.S., Canada, Mexico, 12 months ending Sept. 2020
Award Winners for Fastest-turning Brand Per Item
Category: Winner
U.S. Soundbars: Sonos
Mexico Soundbars: Bose
Canada Soundbars: Monster
U.S. Work-From-Home: Apple
Mexico Work-From-Home: Samsung
Canada Work-From-Home: Avermedia
Source: The NPD Group, Inc., Store-Level Enabled Retail Tracking, 3 months ending Sept. 2020
Work-From-Home defined as: Docking Stations, Keyboards (non-gaming), Mice (non-gaming),
PC Headsets (non-gaming), Monitors, & USB Cameras.
Award Winners for Top E-commerce U.S. Market Share Gain
Category: Winner
Streaming Media Players: Roku
Routers: Eero
Smart Doorbells: Arlo
Home Speakers: Klipsch
Drones: DJI
Source: The NPD Group, Inc., Checkout, 12 months ending Sept. 2020
Visit NPD's Content Hub for access to NPD CE Industry Performance Award acceptance videos, 2021 outlooks from our industry analysts and advisors spanning: gaming, home automation, mobile and more, as well as a look at consumer tech holiday performance and our Future of Tech forecast.
[1] Based on dollar market share increase across North America (U.S., Canada, and Mexico)
[2] Based on weighted dollar/peso velocity per item for brands with distribution in retailers that represent at least 10% of NPD tracked CE sales
[3] Based on online dollar market share increase in the U.S.
About The NPD Group, Inc.
NPD offers data, industry expertise, and prescriptive analytics to help our clients grow their businesses in a changing world. Over 2,000 companies worldwide rely on us to help them measure, predict, and improve performance across all channels, including brick-and-mortar, e-commerce, and B2B. We have services in 19 countries worldwide, with operations spanning the Americas, Europe, and APAC. Practice areas include apparel, appliances, automotive, beauty, books, B2B technology, consumer technology, e-commerce, fashion accessories, food consumption, foodservice, footwear, home, juvenile products, media entertainment, mobile, office supplies, retail, sports, toys, and video games. For more information, visit npd.com. Follow us on Twitter: @npdgroup.