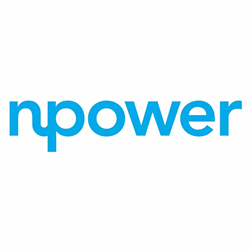 "Anupam Singhal joins NPower at a time when we are expanding into new markets and helping bridge the diversity gap across technology." ~Bertina Ceccarelli, CEO of NPower
NEW YORK (PRWEB) August 27, 2020
One of America's leading nonprofits for equity in tech, ​NPower, has announced the addition of a new member to their national board of directors: Anupam Singhal, Senior Vice President and Business Head for Tata Consultancy Services(TCS), a leading global IT services, consulting and business solutions organization.
NPower's CEO Bertina Ceccarelli, says Mr. Singhal will help the nonprofit's expansion by bringing strong knowledge of the tech sector, rich experience in nurturing diverse tech talent and executive knowledge to their board.
"Anupam Singhal joins NPower at a time when we are expanding into new markets and helping bridge the diversity gap across technology," said Ceccarelli. "TCS is a long-time partner of NPower, spanning the past eight years. They have provided financial support, pro bono projects and engaged 3,000 employees in volunteer activities benefitting our trainees. Anupam's experience and leadership will bring innovative ideas to our organization as business adapts to a new virtual work-from-home environment."
"At a time of so much unrest in this country, NPower's mission to help the most vulnerable of Americans is critical to diversifying the tech sector. The board has been focused on attracting strong and diverse thought leaders to the governing body that can steward the organization through strategic objectives and Anupam is a critical addition in this regard," said Gail Fierstein, Head of People at CaaStle and chair of the nominating committee for NPower's board of directors.
TCS' vision is to empower people and communities, connecting them to opportunities in the digital economy by building equitable, inclusive pathways for women, youth and marginalized groups. As a leading employer of local tech talent, TCS has hired over 20,000 people in the U.S. over the past five years. They have also invested in re-skilling and up-skilling over 90 percent of their U.S. workforce in the latest digital technologies, tools, and platforms, equipping them to embrace the new opportunities available.
As a civic leader, TCS has empowered over 30,000 middle and high school students to careers in computer science and STEM through their goIT program, with 42% girls and 70% from ethnic minorities. Furthermore, TCS' Ignite My Future in School program has enabled 11,500 educators and 671,000 students across 175 U.S. school districts to adopt a transdisciplinary learning approach and incorporate computational thinking into every school subject.
Since 2012, TCS has been a steadfast partner of NPower, providing nearly $1.4M in philanthropic investments, dedicating more than 25,500 volunteer hours valued at $3.9M in pro-bono technology services. Additionally, through its partnership with NPower, over 3,000 TCS volunteers have dedicated almost 42,000 hours to provide pro bono technology support to local nonprofits, valued at $4.82M in social good.
Anupam Singhal - Senior Vice President & Business Head Tata Consultancy Services
Anupam Singhal is responsible for the Banking, Financial Services, and Insurance Unit for the U.S. East with TCS. A 27-year veteran of TCS, Singhal specializes in enabling businesses to scale up and become more competitive through Artificial Intelligence and Cloud Computing. He also sponsors the relationship for one of TCS' largest customers.
Singhal is a graduate of the AMP program at Harvard Business School and holds a master's degree in Business Administration and bachelor's degree in Engineering. Anupam is passionate about giving back, particularly to inspire students in STEM education and leads by example in driving community initiatives and promoting a culture of volunteerism across his business unit.
"I am excited to work with NPower and help students and veterans from vulnerable communities gain access to skills needed to succeed in the technology industry," said Singhal. "NPower is an important leader in technology training and I am honored to have this opportunity to bring my experiences with Tata Consultancy Services and my career driven by a deep commitment to making societal impact to the NPower Board of advisors."
Other members of the board of directors for NPower include Randy Barnhardt (VP, Cloud and Innovative Solution), Craig Cuffie (SVP, CPO, Salesforce), Jennifer Kleinert (COO, Citi Enterprise), Peter Trizzino (SVP, Dell Technology), Vittorio Cretella (CIO, Proctor & Gamble), Dean Del Vecchio (EVP, COO, CIO, Guardian Life Insurance), Guillermo Diaz Jr. (CEO, Kloudspot), Edward Fandrey (VP of Financial Services, Microsoft), Gail Fierstein, (Head of People, CaaStle), Matt Horner (SVP, World Wide Technology Inc.), Debra King (SVP, CIO, Corteva Agriculture), Viola Maxwell-Thompson (President and CEO of ITSMF), Chris Perry (President, Broadridge Financial), David Reilly (CIO, Bank of America) as well as several others.
About NPower
NPower is a national nonprofit on a mission to move people from poverty to the middle class by training youth from underserved communities and veterans in a range of tech skills and placing them in quality jobs. Students who enter their free, six-month program, earn industry-recognized certifications and graduate with the competencies of an IT professional with one to two years of experience. NPower also places students in paid internships with corporate and nonprofit organizations. Eighty percent of NPower graduates get a full-time job or continue their education. Not only is NPower changing life trajectories for individuals from vulnerable communities but they are also strengthening the overall competitiveness of U.S. businesses hamstrung by today's limited pool of IT talent. To learn more about NPower, visit http://www.npower.org.
About Tata Consultancy Services (TCS)
Tata Consultancy Services is an IT services, consulting and business solutions organization that has been partnering with many of the world's largest businesses in their transformation journeys for over 50 years. TCS offers a consulting-led, cognitive powered, integrated portfolio of business, technology and engineering services and solutions. This is delivered through its unique Location Independent AgileTM delivery model, recognized as a benchmark of excellence in software development.
A part of the Tata group, India's largest multinational business group, TCS has over 448,000 of the world's best-trained consultants in 46 countries. The company generated consolidated revenues of US $22 billion in the fiscal year ended March 31, 2020 and is listed on the BSE (formerly Bombay Stock Exchange) and the NSE (National Stock Exchange) in India. TCS' proactive stance on climate change and award-winning work with communities across the world have earned it a place in leading sustainability indices such as the Dow Jones Sustainability Index (DJSI), MSCI Global Sustainability Index and the FTSE4Good Emerging Index. For more information, visit us at http://www.tcs.com.
Media Contact:
Mark Macias
mmm@maciaspr.com
646-770-0541