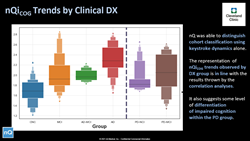 nQ's novel technology uses machine learning to capture and analyze an individual's typing performance on keyboard or smartphone. Data is captured continuously, non-invasively, in a natural everyday environment, making it a very promising screening tool for early detection of Alzheimer's disease.
CAMBRIDGE, Mass. (PRWEB) March 11, 2021
nQ Medical is proud to be a Gold Sponsor of the AD/PD 2021, the 15th​ International Conference on Alzheimer's and Parkinson's Diseases and related neurological disorders, held this week. During the three events at AD/PD, nQ will be revealing the latest data from its "Validation of passive typing monitoring as an indicator of cognitive impairment in the AD spectrum" study, conducted at the Cleveland Clinic Lou Ruvo Center for Brain Health, Las Vegas.
Alzheimer's disease is a neurodegenerative disorder that begins with subtle cognitive symptoms (typically short-term memory loss) invariably progressing over the course of years to decades to dementia, functional impairment, and death. Affecting more than 5 million people in the United States, it is the most common neurodegenerative disease. Advancing age is the strongest risk factor for developing the disease. This means that every living person over the age of 65 is at risk.
The economic and societal burden that Alzheimer's disease imposes represents an emerging public health crisis for the United States, and more broadly, the developing world (where the majority of new cases are expected to occur). There is an urgent need to identify individuals manifesting the initial symptoms of the disease. Identification of these individuals will allow for testing of new agents in clinical trials, permit modification of lifestyle factors that may impact disease course, and, perhaps, most importantly, represent a crucial time point to initiate treatment for Alzheimer's disease (if and when new medications are discovered).
Although several diagnostic tests are available that can identify patients in the earliest stages of the disease, these tests are prohibitively expensive (amyloid PET) or invasive (spinal tap) and are not feasible for screening millions of at-risk individuals. New screening tools that are inexpensive, scalable, and minimally invasive are urgently needed in order to combat the looming Alzheimer's disease epidemic.
Decades of research has confirmed that subtle errors on cognitive tasks can predict those who will progress from mild symptoms to Alzheimer's dementia. At this time, these tests are expensive to analyze, time-consuming, and not widely available. Additionally, data is typically collected at discrete time points at a testing center, making it susceptible to the influences of extraneous factors (i.e. a poor night's sleep, anxiety, a "bad day", etc.). The ability to sample cognitive performance continuously and in the individual's natural environment would represent a major achievement for the field.
Typing is a complex motor activity that has been linked to an individual's cognitive, psychological, and emotional state. Univariate analysis of mechanical keyboard dynamics (in a small sample) has recently been shown to differentiate individuals with mild cognitive impairment and Alzheimer's disease from a normal control group. nQ Medical's typing tool is a novel technology that utilizes machine learning to capture and analyze an individual's typing performance on either a keyboard and/or a smartphone. Importantly, the nQ technology can capture data continuously, non-invasively, and in a person's "natural" or everyday environment, thus, making it a very promising screening tool for early detection of Alzheimer's disease.
About nQ Medical
nQ Medical, Inc. is a Digital Biomarker Discovery Platform of data modeling that can be adapted cross-disorder and readied for rapid scaling. nQ Medical's AI-powered computational biomarker yields powerful insights. We believe that the way our fingers interact with smart phones and computers can reveal the presence of certain neuromotor and neurocognition diseases like Parkinson's, Alzheimer's, ALS, and Multiple Sclerosis. The potential of our technology has been shown in clinical research at MIT, backed by the Michael J. Fox Foundation, the Cleveland Clinic and Massachusetts General Hospital. The fine control of typing and touch screen kinematics, as well as the frequent use of personal devices like smartphones brings Real World Data to patients, caregivers, and clinicians. For more information, please contact us: https://www.nq-medical.com/adpd/