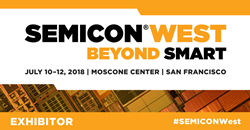 GRAND ISLAND, N.Y. (PRWEB) July 09, 2019
NRD, LLC will be providing both Alpha and Corona solutions at SEMICON West 2019—July 9-11 at Moscone Center in San Francisco, CA.
SEMICON will be connecting every part of an electronic supply chain in one place, connecting customers and distributors. Featured will be several hundred exhibitors, the conference provides the insights, access, and technical and business intelligence needed to get ahead in today's disruptive, fast-changing business environment.
NRD will be ensuring attendees and exhibitors alike can preview their smart technology: the Ionmaster QMS. NRD's newest system corresponds well with SEMICON's emphasis on technology advancements, And the Ionmaster QMS suite of tools will completely change the way organizations think about their approach to managing their static control – both alpha and corona technology users.
NRD is ready to discuss their alpha and corona products that are perfect for the semiconductor industry; including their Fans (6222, 6212, & 4060), Linear Alpha Ionizing Bar (P-2001), and Air Assist Bar Ionizer (6110). And there will be demonstrations as to how the Ionmaster QMS will play an important role for the future of static control.
Attendees can also consult with NRD representatives regarding their unique solutions to their individual static obstacles while visiting NRD's booth #1164.
###
About NRD
For 50 years, NRD has been a global supplier of devices that eliminate electrostatic discharge in environments such as R&D, laboratory, technology, industrial applications, and automotive, as well as specialty sources for ECD, IMS, and more. They service each industry and static concern uniquely with a customer-first approach and are the only company in the world that offers both alpha and corona static control solutions.
For more information about NRD, visit https://www.nrdstaticcontrol.com/
About SEMI
SEMI is the global industry association serving the manufacturing supply chain for the electronics industry, including: semiconductors, Flexible, Hybrid and Printed Electronics, Micro-Electro Mechanical Systems (MEMS), sensors, High-Brightness LED, Photovoltaics (PV), Flat Panel Display (FPD), Related micro- and nano-electronics.
SEMI facilitates the development and growth of our industries and manufacturing regions by organizing regional trade events (expositions), trade missions, and conferences; by engaging local and national governments and policy makers; through fostering collaboration; by conducting industry research and reporting market data; and by supporting other initiatives that encourage investment, trade, and technology innovation.
For more information about SEMI, visit: http://www.semi.org/en/
For more information about SEMICON West, visit: http://www.semiconwest.org
###