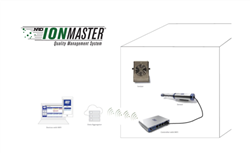 GRAND ISLAND, N.Y. (PRWEB) January 23, 2019
NRD will be joining over 9,000 professionals in the electronic manufacturing industry providing products that address static control needs at IPC APEX Expo 2019; the largest electronics manufacturing event in North America. You can find NRD at booth #1605, offering unique solutions for both their alpha and corona technologies to exhibitors and attendees January 29-31 at the San Diego Convention Center, San Diego, CA.
For many organizations in electronics manufacturing industries, the biggest challenge they face is managing the static charge in their environments. This electrostatic discharge can short the devices and cause latency failure, resulting in production downtime, lost revenue and jeopardized client relationships.
It is NRD's mission to work with their customers to evaluate the most effective, reliable, and safest solution based on their companies manufacturing goals. Due to the nature of the electronic manufacturing environment, most solutions utilize corona static control technologies. NRD is the only company that provides safe and effective alpha and corona solutions, uniquely designed to fit seamlessly into your work environment with the user's comfort in mind.
At the show, NRD will be showcasing some of their newest and most popular products from 2018. They will also be highlighting their soon-to-be released smart ionization system, Ionmaster™ Quality Management System (QMS). The Ionmaster QMS is ideal for the electronic manufacturing marketplace, enabling customers to monitor and better ensure their ionizers are at optimal performance levels. NRD will be providing a preview of the immediate benefits companies will capture with this system for those who stop by booth #1605.
About IPC APEX EXPO
IPC APEX EXPO 2019 is a five-day event like no other in the printed circuit board and electronics manufacturing industry. Professionals from around the world come together to participate in the Technical Conference, Exhibition, and Professional Development, Standards Development and Certification programs. These activities offer seemingly endless education and networking opportunities that impact your career and company by providing you the knowledge, technical skills and best practices to address any challenge you face.
Learn more at http://www.ipcapexexpo.org/html/default.htm
About NRD
For nearly 50 years, NRD has been a global supplier of devices that eliminate electrostatic discharge in environments such as R&D, laboratory, technology, industrial applications, and automotive, as well as specialty sources for ECD, IMS, and more. They service each industry and static concern uniquely with a customer-first approach and are the only company in the world that offers both alpha and corona static control solutions.
For more information about NRD, visit https://www.nrdstaticcontrol.com/
Or
Contact us at sales(at)NRDLLC(dot)com and we'll help you find your unique solution.