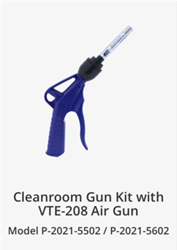 GRAND ISLAND, N.Y. (PRWEB) October 11, 2018
NRD will be joining over 2,500 exhibitors specializing in advanced packaging equipment, materials, containers, automation technologies and other supply chain solutions at the 2018 Pack Expo; October 14-17, McCormick Place, Chicago, IL.
In the field of packaging, electrostatic discharge can be an expensive barrier in production; it can short the devices and cause latency failure or make materials unwieldy and difficult to handle, resulting in production downtime, lost revenue and jeopardized client relationships. It is NRD's mission to work with their customers to evaluate the most effective, reliable, and safest solution based on their company goals.
NRD will be at booth #10511, offering both their alpha and corona solutions to exhibitors and attendees. They will be showcasing some of their new products released in 2018; one being the Staticmaster® Cleanroom Ionizing Gun; P-2021-5502. This gun features ergonomic designs and rugged construction. They are ideal for use with circuit boards and sensitive electronic components because they are self-powered and will not generate sparks.
In addition, NRD will be highlighting their soon-to-be released smart ionization system, Ionmaster™ Quality Management System (QMS), that will enable customers to monitor and better ensure their ionizers are at optimal performance levels. The Ionmaster QMS is ideal for the packaging marketplace and worth visiting the NRD booth for a sneak peek of the immediate benefits companies will capture with this system.
About NRD
For nearly 50 years, NRD has been a global supplier of devices that eliminate electrostatic discharge in environments such as R&D, laboratory, technology, industrial applications, and automotive, as well as specialty sources for ECD, IMS, and more. They service each industry and static concern uniquely with a customer-first approach and are the only company in the world that offers both alpha and corona static control solutions.
For more information about NRD, visit https://www.nrdstaticcontrol.com/ or contact us at sales@NRDLLC.com and we'll help you find your unique solution.