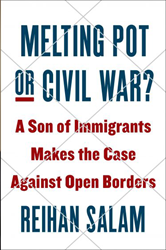 "This is an important organization and I am pleased to be part of their continual growth."
WEST PALM BEACH, Fla. (PRWEB) November 08, 2018
National Review Institute continues its 2018 series of author discussions for 1955 Society members that highlight NRI's conservative, witty, intellectual writing and leadership.
At this event, Julio Gonzalez welcomed and gathered with NRI writers and editors to take a would-be panel discussion to the dining room table with NRI fellow, Reihan Salam, author of the new book, Melting Pot or Civil War? A Son of Immigrants Makes the Case Against Open Borders.
Julio Gonzalez is proud to be part of NRI's educational and outreach program, which has grown substantially and is reaching an increasing number of people to promote the principles of individual liberty, personal responsibility, limited government, and free markets.
A consistent presence in Palm Beach is part of the broader strategic plan. Over the last five years, NRI has built a thriving journalistic think tank around the wealth of NRI talent.
Author Reihan was featured on the new Firing Line with Margaret Hoover. You can watch the interview here: https://www.pbs.org/video/reihan-salam-tcctbd/
Mr. Gonzalez is a contributor on tax reform and is the go-to tax expert representing Hispanic 100, Hispanic Council and family offices. He is a regular public figure speaker on a national level regarding tax reform and tax sophistication for wealth preservation.