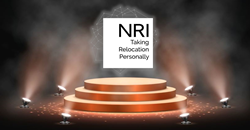 The NRI team and our trusted supply chain delivered impeccable services to our clients and transferees amidst the Covid-19 pandemic.
BUFFALO GROVE, Ill. (PRWEB) April 20, 2021
NRI Relocation, Inc., an award-winning corporate relocation services provider, is pleased to announce that the company recently placed in the 2021 HRO Today Baker's Dozen Relocation Satisfaction Ratings. NRI ranked #3 for Quality of Service and #4 for Overall Leaders, the company's highest rankings to date. This customer satisfaction survey and ranking system is based on industry feedback and recognizes the top employee relocation companies for quality service and scope. 2021 is NRI's fourth consecutive year being ranked.
"We are both honored and thrilled to achieve our highest rankings of all-time this year," says John Zilka, NRI President. "The NRI team and our trusted supply chain delivered impeccable services to our clients and transferees in 2020 amidst the Covid-19 pandemic. I'm very proud to be associated with such a fine group of professionals committed to customer service during unprecedented times."
HRO Today announced the results of their survey on March 16, 2021 via their YouTube channel. Over 35 relocation companies were evaluated, with the top 13 making the Baker's Dozen list. Over 500 human resources professionals participated with feedback and comments, making this the largest corporate relocation and global mobility survey in the industry.
Mr. Zilka also noted a trend in the rankings.
"Smaller and more nimble relocation companies dominated this year's rankings. It shouldn't be a surprise that these kinds of companies were able to better adapt and evolve to meet the needs and challenges of their clients in 2020. NRI prides itself on delivering custom relocation services with expertise and efficiency. These rankings help validate our strategy and execution. We look forward to a great 2021 in the employee relocation industry."
About NRI Relocation, Inc.
Established 1985, NRI Relocation is an award-winning relocation management company for U.S. corporate relocation services, global relocation services, and international assignments. We propel talent forward to new career opportunities worldwide so that employee engagement, productivity, and success can thrive. We do this by connecting our values-based philosophy of Taking Relocation Personally to every client and each employee. Our purpose guides the design and delivery of an employee relocation experience that perfectly aligns with the cultural and financial goals of our clients. Learn more about our policy + service + technology solutions at http://www.NRIrelocation.com or visit us in Buffalo Grove, IL, USA.
About HRO Today
HRO Today and HRO Today Global are the properties of SharedXpertise Media and offer the broadest and deepest reach available anywhere into the human resources industry. Our magazines, web portals, research, e-newsletters, events, and social networks reach over 180,000 senior-level HR decision makers with rich, objective, and game-changing content. Learn more at http://www.hrotoday.com.