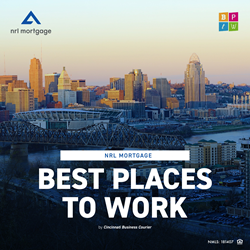 CINCINNATI (PRWEB) November 04, 2019
NRL Mortgage's Midwest Region, the national company's largest region, recently accepted a milestone, momentous award – The Best Place to Work 2019 honor by The Business Courier. Based 100% on employee feedback gathered through a third-party survey, NRL employees were asked to rank their workplace based on several aspects of various criteria such as workplace culture, leadership, engagement and their manager.
Experiencing significant growth over the past year, the Midwest Region has expanded their staff by over 30% with their most notable acquisition of their Detroit, Michigan branch. Last year, the Mt. Adams branch alone expanded their staff by 20%. In a shrinking market within a volatile industry, NRL Mortgage and specifically the Midwest Region continue to defy industry standards and break barriers with their commitment to growth and quality of life in the workplace. Azadeh attributes the team's success to their strong relationship with the Realtor community. In doing so, Azadeh regularly hosts exclusive events with speakers in the 5-digit budget as a gesture of thanks to the Realtor community, with the most notable event coming on November 7, 2019 at the Cincinnati Art Museum hosting Cara Brookins (for more information, visit explorenrl.com/carabrookins).
"Best Place to Work is more than just being recognized," said Caveh Azadeh, Midwest Area Branch Manager. "This is a huge honor for our team, this is our 3rd award in this category of Top Best Workplace in 2 years. The honor truly belongs to our employees who continue to build such an engaging and dynamic atmosphere which allows us to transfer that to our clients."
"The culture at NRL makes it a no brainer for us to be a top workplace." proclaimed Nick Kennard, Branch Operations Manager. "We are a family that happen to work for one another. We're involved in each other's families, weddings, big lifestyle milestones and yes, we even help each other purchase our homes," laughs Kennard. "NRL makes it a place like no other. I'm honored to have the opportunity to continue to work for such a great company!"
To meet the market's growing demands, Azadeh made the strategic decision to relocate Chad Curtin and his Montgomery team (Justin Allen, Vincent DeRisi, Darren Phan & Nick DeRisi) to Mount Adams to sufficiently provide support to the growing market of first-time homebuyers and valuable referral partners. By combining both the Mt. Adams and Montgomery powerhouses, the branch will be able to provide escalated turn times, customer service, and most importantly, Originators will be able to receive mentorship and management under a 18-year mortgage veteran, Chad Curtin.
Chad began his career as a Loan Originator just a shy two-days after graduating from the University of Cincinnati in 2001 with a BA in Marketing & Management. Joining the NRL team in July of 2016, he quickly became a proven sales leader and manager for his Montgomery team. When asked what makes him most excited about the move and promotion, he replies with "I am fired and motivated by this new challenge and I know this is going to be a great move. I can't wait to work alongside some of the most talented operations people in our industry." As a proven top Originator, Curtin is excited to "share what I've learned along the way and work with the sales team to break their production goals!"
Chad will continue to be a producing Branch Manager in addition to managing his team and the Montgomery branch will still be open for business. The office space will be reserved for business activities and special events.
In the same vein of growth, Nick Kennard, Senior Loan Originator has been promoted to Branch Operations Manager. Kennard has 6 years of sales and operations experience; however, his meticulous and detailed character allows him to fully move loans quickly through the process. Joining the Midwest Region in 2013, Kennard was a determined student in learning the mortgage industry and sales training. It paid off. In 3 short years, Kennard was quickly promoted to Area Trainer for the Midwest branch. His new role will include pipeline management with Loan Originators, offering hands-on support with issues that may occur in loan processes and will continue his role of being the Branch Trainer for all new hires.
When asked why he decided to take on a leadership role, he replies, "In my nearly 6 years with NRL, I've had the opportunity to work with so many great people and learn from some of the best in the business. I've tried to take some of the best traits from every person I've interacted with and hope to be able to use those traits to help make everyone more successful! I feel we have a strong group within our sales and operations staff, and I look forward to utilizing my skills to help promote continued growth and opportunities at NRL.
###
About NRL Mortgage
NRL Mortgage is a national residential mortgage company headquartered in Houston, Texas. Founded in 2007, NRL serves its customers through more than 70 retail branch locations in 46 states across the United States. The company continues to grow exponentially and was recognized by Inc. Magazine as one of 5000 Fastest Growing Private Companies for the past four years. Each NRL Mortgage branch offers customers a full suite of loan products, and NRL Mortgage professionals enjoy access to necessary tools to be the best in the industry. The company is committed to providing the most reliable and sustainable lending experience for its customers. For more information, visit http://www.nrlmortgage.com.