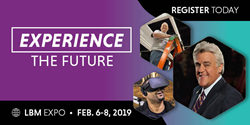 We are thrilled to bring the LBM Expo back to Boston for this historic event
RENSSELAER, N.Y. (PRWEB) September 28, 2018
The Northeastern Retail Lumber Association (NRLA) is excited to announce that registration for the LBM Expo is now open at http://www.LBMExpo.com. The 125th Annual LBM Expo will take place February 6-8, 2019 at the Hynes Convention Center in Boston, Mass.
"We are thrilled to bring the LBM Expo back to Boston for this historic event," said Rita Ferris, President of the NRLA. "And while we will be honoring our past, we will also be focusing our sights on the future of the LBM industry."
2019's Expo will help LBM professionals experience the future with hands-on demos and looks at what technology will be disrupting the industry soon. Additionally, the LBM Expo will unveil a new format to maximize the attendee experience on the show floor as well as educational opportunities.
The theme of the Expo is Experience the Future. "You can't do the same thing for 125 years and expect to be successful," explained Ferris. "We are pleased with the changes we've made. To start, we're compressing the show floor hours on Wednesday, and kicking off with an opening session about how you can use technology, social media, and your experienced staff to be the experts of information to serve multiple generations like never before."
The kick-off session, three special demo zones on the show floor to teach retailers how to be their contractors' most valuable resource, and Friday morning closing educational session instead of exhibit hours, are just a few of the improvements coming to LBM Expo.
"We have many opportunities for attendees to learn things that can really improve service and sales." Ferris shared. "We are truly proud of the impressive work our Convention Committee and 125th Anniversary Task Force have done to celebrate this impressive milestone."
On the evening of Feb. 7, the NRLA will host its 125th Anniversary Celebration at the Marriott Copley with a special dinner, and entertainment from former Tonight Show star, Jay Leno.
"From the incredible learning and networking opportunities available throughout the show, to our 125th Anniversary Celebration with Jay Leno, this LBM Expo will be the event the industry will be talking about for generations," said Ferris.
LBM professionals looking to experience the future at LBM Expo can learn more about all the changes and opportunities at http://www.LBMExpo.com.