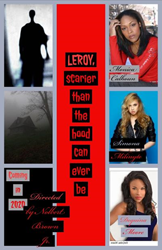 BEVERLY HILLS, Calif. (PRWEB) March 04, 2020
NRM TV Network will be presenting our first movie on demand for one full week before it goes into Theatre. The Horror movie Leroy, Horror at its best, will be starring Monica Calhoun. Our second project is a night sitcom called Fortune. It will make you forget Empire and show you where the Power really is. It's a must see! Our third project is a show about life in Hollywood. It shows the ups and downs of celebrities and the true stories of how it can make you or break you.
The founders of NRM TV Network are the Award Winning Director Nolbert Brown Jr. He was one of the writers on the TV show All in the Family. He was the Director of the Life stories of Marvin Gaye, Jackie Wilson, and Mahalia Jackson. Regina Smith who is the founder of Queen Moves Inc. and Unlimited Potential Entertainment where she managed various artist. Michael Mike founded DFTV Network/DFTV Sports, a five (5) years old Full Service Web Based Television Network, specializing in Mobile Broadcasting.
NRM TV Network will be hosting a national casting call for a host for one of our shows.