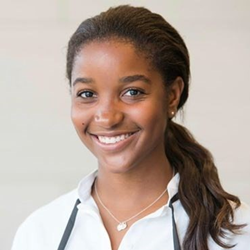 "In terms of coming from that diversity space and being focused on promoting equity across MIT, it would kind of be important to have someone in the President's role who's focused on that." - Danielle Geathers
ATLANTA (PRWEB) October 30, 2020
Danielle Geathers, a National Society of High School Scholars (NSHSS) Student Council member, was elected student body president by her peers at Massachusetts Institute of Technology (MIT) in May 2020. A sign of the changing times, Geathers made history as the first Black woman to hold the office of president. Geathers and her vice president, Asian-American woman Yu Jing Chen have installed the most diverse cabinet in the university's history.
According to MIT, about six percent of undergraduates at MIT are Black and 47 percent are women. One of Geathers' priorities at MIT has been to improve those numbers, telling CNN in a recent interview, "In terms of coming from that diversity space and being focused on promoting equity across MIT, it would kind of be important to have someone in the President's role who's focused on that." She now leverages the Talented Ten initiative that she founded to increase the number of Black women who attend MIT to serve as a role model and figurehead.
Before attending MIT, Geathers had a resume gilded with experiences few high school students could match. Alongside her membership in the NSHSS, by the time she graduated with the Miami Country Day School class of 2018, she had multiple accomplishments under her belt. Geathers lettered in four sports, earned multiple awards and championships, founded the Black Student Union, and was part of Mu Alpha Theta, the English Honor Society, the National Honor Society, and the John C. Dubois History Honor Society. She was also the President of the National Science Honor Society.
An exemplary student, Geathers took an active role in the NSHSS since she became a member in 2016. She brought with her a unique perspective, which was influenced by her participation in Nobel Week in December 2019. During the week, she and other students from around the world traveled to Stockholm, Sweden to hear lectures from Nobel Laureates. Now serving in the NSHSS Student Council as a college student leader in the society, she remains a role model for all members.
Geathers is currently a Mechanical Engineering major with a concentration in product design in her junior year.
About NSHSS
National Society of High School Scholars (NSHSS) is the premier honors and scholarship program co-founded by Claes Nobel, the senior member of the Nobel Prize family, and James Lewis. NSHSS offers a lifetime of benefits, pairing the highest performing students worldwide with high school and college scholarships, events, connections, internships, and career opportunities that begin in high school and carry on through college and careers. For more information, visit https://www.nshss.org/.
-