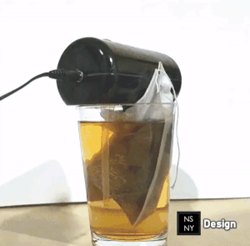 Cold brew coffee is traditionally made in 24 hours, but the Swift device can achieve a smooth, bold flavor in just 10 minutes
TAMPA, Fla. (PRWEB) April 15, 2020
NSNYdesign LLC, dedicated to creating products that make people's lives better or solve an interesting problem, announced today the launch of their newest innovation on Kickstarter, the Swift 10 Minute Cold Brew Coffee Device. The device is a portable solution to making cold brew coffee at a rapid rate for today's fast-paced consumer and is versatile enough to work with any size cup or container.
"I created this product after my frequent moves to tiny apartments. I needed a cold brew maker that was quick, small, and easy to clean," said Nick Snyder, Engineer & Founder of NSNYdesign LLC. Snyder added, "I created over 20 prototypes using 3D printing, gathered feedback from cold brew enthusiasts, and tested the design components to create the perfect product."
Cold brew coffee is traditionally made in 24 hours, but the Swift device can achieve a smooth, bold flavor in just 10 minutes. The patent-pending product works by moving the water through the grounds in a cycle to release the solubles much faster than sitting in still water. No particular container or cup is needed making the product easy to use and portable for traveling. The Kickstarter campaign will help bring this product to life by providing the funds required for startup, manufacturing, and production costs. A 50% discount is offered for the first 50 backers.
Are you looking to support the manufacturing of this innovative and market-leading product? Visit the Kickstarter campaign today to learn how.
###
About NSNYdesign LLC
I am a mechanical engineer with a passion for product design. I love making products that make people's lives better or solve an interesting problem. While working in manufacturing for 5 years, I have seen how products get produced, but had an urge to get involved in the design process. I worked on my own designs during my freetime and in February 2020, launched NSNYdesign LLC to bring my ideas to market.