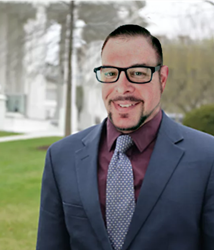 "By providing individuals with disabilities the necessary job search skills, they can place themselves in the forefront of the hiring process." -Michael Sanders, Director of Marketing at NTI
BOSTON (PRWEB) March 26, 2019
Returning to work after a life-changing disability is intimidating. Director of Marketing at NTI (http://www.nticentral.org/learnmore), Michael Sanders, is familiar with the challenges individuals with disabilities face getting back into the workforce. NTI has helped Americans with disabilities find jobs since 1995 and has seen success as well as barriers as individuals seek employment. Sanders said, "After an injury, it's common to reach a point where you feel physically able and want to reenter the workforce, but question where should I start?" Sanders recognized missteps and developed a program for The Reeve Foundation to address the premise that an individual can return to the workplace after an injury. Although logistics can be difficult, Sanders ensured there is a solid methodology an individual can take to prepare themselves for the transition back into the workplace.
Many employers recognize the benefits of a diverse workforce and the unique skills, abilities and views employees with disabilities can provide. In a recent study by NTI, individuals with disabilities outperformed employees without disabilities by 43% within an IT Help Desk environment. According to Sanders, "With an unemployment rate at 4.1%, how can we connect quality individuals to employers? By providing individuals with disabilities the necessary job search skills, they can place themselves in the forefront of the hiring process. The focus shouldn't be on the disability, instead what they do bring to the table in regard to their knowledge, skills, and abilities."
Sanders said, "When choosing to return to work, having a plan in place is crucial to a successful outcome." Individuals are often worried about returning to work for fear of losing disability benefits, but do they even understand their benefits? Do they even know what job search skills are needed so they can move forward with their lives? To answer questions like these, Sanders provided guidance and direction about successfully navigating the path back into the workplace after an injury.
Many of the individuals in attendance, may not have been able to leave their home due to their injury. However, by the end of the webinar, participants were provided the confidence to find support they needed; methods on how to receive up to date training and skills; and how to use vocational rehabilitation services to obtain and keep a job while living with a spinal cord injury. In addition, exclusively for The Reeve Foundation participants, Sanders developed the microsite, http://www.TransitionAfterInjury.com to provide individuals with disabilities seeking work a variety of additional resources, templates, and support materials.
An archived version of the webinar on "Transitioning Success: Reentering the Workforce After Disability" can be found at http://bit.ly/TransitioningSuccess.
About NTI: National Telecommuting Institute. Inc (NTI) is a 501 (c)(3) (http://www.nticentral.org) non-profit organization with headquarters in Boston, MA. It has been supporting Americans with disabilities since 1995. NTI provides training and job services in work at home positions across the United States through their NTI@Home (http://www.ntiathome.org) and LandAjob.org (http://www.landajob.org) programs. NTI pioneered staffing virtual call centers with Americans with Disabilities, including Disabled Veterans, who work from home.
About Reeve Foundation: The Christopher & Dana Reeve Foundation (http://www.ChristopherReeve.org ) is dedicated to curing spinal cord injury by funding innovative research and improving the quality of life for people living with paralysis through grants, information and advocacy. The Paralysis Resource Center (PRC) is a program of the Reeve Foundation, and is funded through a cooperative agreement with the Administration for Community Living, part of the U.S. Department of Health and Human Services (cooperative agreement number 90PRRC0002-01-00).
Media contacts:
Mike Sanders, Director of Marketing at NTI, 857-772-7614, marketing(at)nticentral(dot)org