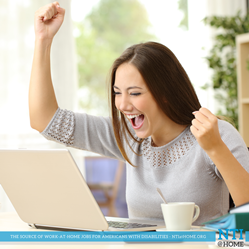 "The new website format will make it easier for individuals with disabilities to understand the services we offer and the steps involved to apply for our at-home positions." Leah Terrasi, Senior Director of Employment Services
BOSTON (PRWEB) February 06, 2019
For more than 20 years, Boston-based non-profit NTI@Home has helped Americans with disabilities train for and find work-at-home jobs with Fortune 500 companies. NTI@Home is always working to find the best ways to meet the needs of Americans and veterans with disabilities, and to that end today launched a new website to provide the ultimate user-friendly experience. Alan Hubbard, Chief Operating Officer, said he likes the simplicity of the new site. "It is logically laid out and easy to understand. Potential employees will be able to quickly find the information they need to access and use NTI's free services." New and improved functionality allows users to navigate the process in a streamlined fashion on any device with the option to easily find and follow NTI@Home on all major social media sites. Director of Marketing Mike Sanders said he hopes this will "allow individuals with disabilities to reach out in easily accessible ways to ask questions and find answers as well as to engage in and follow NTI@Home's advocacy efforts in the community and around the globe."
The new NTI@Home site also shares success stories of individuals with disabilities who have found independence and freedom through work-at-home jobs using the services NTI@Home provides. The site redesign provides a detailed overview of who is eligible for services and work-at-home employment and what steps are necessary to register. Information on how to access NTI's free online training classes taught by industry professionals is also provided. Leah Terrasi, Senior Director of Employment Services, said "I'm excited about the new website and think it turned out great. The new format will make it easier for people to understand the services we offer and the steps involved to apply for our at-home positions."
Created with the end-user in mind, the website was designed to be compatible with all the different browsers and mobile devices on which today's consumers rely. Compared to the previous website, the new design provides easier to understand content and better navigation which will assist users who are interested in registering for NTI@Home's services and learning more about returning to work following a disability.
The website also features press releases and other news items featuring NTI@Home and the disability advocacy work in which the non-profit is involved.
View the new site at http://www.ntiathome.org.
NTI is a 501 (c)(3) (http://www.nticentral.org) non-profit organization headquartered in Boston, MA. NTI has been providing job services to Americans with disabilities since 1995. The NTI@Home program provides free training and job search services for work-at-home customer service positions across the United States. The LandAjob program helps Americans on SSI/SSDI search for on-site jobs and get reimbursed for job related expenses. NTI pioneered staffing virtual call centers with Americans with Disabilities, including Disabled Veterans, who work from home.
###