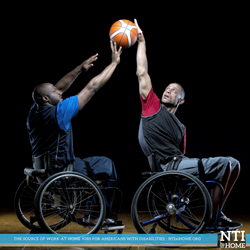 "It had been 11 years since I had worked. I was looking for full-time employment and NTI was the place that gave me that opportunity. I hope this ad will help people let go of their fears and take a shot with NTI." ~Dominic Barber, Recruiting Services Manager at NTI
BOSTON (PRWEB) August 06, 2019
NTI@Home is appearing on the back cover of the August issue of New Mobility magazine to highlight available job opportunities for Americans with disabilities. Jobs in call centers for government organizations, Fortune 500 companies, and small businesses are currently available. A 501 (c) (3) nonprofit organization, NTI@Home has been helping individuals receiving SSI or SSDI income to get free training, mentoring, and job placement services for more than 25 years.
Working with New Mobility magazine is a great opportunity for NTI@Home to tell Americans with disabilities about free training and job placement programs offered by NTI. Finding employment while managing a disability can be difficult, and NTI provides free mentoring to help. "When people sign up with NTI@Home, they are assigned a personal eMentor who helps them for as long as it takes to get through the training process and find a job," said NTI@Home marketing director Mike Sanders.
New Mobility magazine is the official magazine of United States Spinal Association. "They are a magazine to partner with," Sanders remarked. "Both New Mobility and NTI@Home have the same goal--helping Americans with disabilities through their day-to-day lives. We are thrilled to be working with them."
In partnering with New Mobility magazine, NTI@Home used the services of Pedro Blanco Photography to provide professional shots of athletes in motion, while Three Horsemen, a company out of New Bedford, MA, provided behind-the-scenes video. "Pedro Blanco and the Three Horsemen are excellent at what they do, and they paint a story behind the images they capture. We appreciate their efforts in helping Americans with disabilities," Sanders said.
Mass Premier Courts in Foxboro, MA served as the setting for the photo shoot. "It was difficult to find the right location. We had several setbacks and were getting worried, but eventually found the perfect place in Mass Premier Courts. Their facility was perfect for what we needed to accomplish," said Sanders. "Mass Premier Courts, and operational director Mike Vaughn were perfect hosts."
"The concept of the campaign and photo shoot was to show what NTI does by offering a unique visual as opposed to the traditional person-in-a-wheelchair sitting at a desk with a phone and smiling," said Sanders. "We wanted to show someone in action striving to achieve a goal." Showcasing wheelchair basketball and coordinating with the Rollin' Celtics team, a part of the National Wheelchair Basketball Association affiliated with the NBA, seemed like the perfect pairing for Boston-based NTI. NTI's marketing department envisioned a scene of two wheelchair basketball players battling on the court and came up with the "Take Your Shot" campaign.
The "Goliath" in the shot is Derrick "The Enforcer" Poole who has played with the Rollin' Celtics for the past five years. The "David" is NTI employee Dominic Barber, a work-at-home Recruiting Services Manager from Gainsville, Florida, who originally came to NTI for help and assistance and is now an integral part of the NTI team.
"It was a great opportunity for NTI@Home to work with a top-notch organization," said Sanders. Poole, a resident of Brockton, MA, said, "I've been part of quite a few photoshoots, and NTI has been a class act throughout the process. I love what they do, and this is a chance to reach out and help others." NTI is grateful for Poole volunteering his time for the photo shoot.
Prior to this photo shoot, NTI employee Dominic Barber had never played wheelchair basketball but was excited to team up with Poole and practice before the shoot. Barber said this of his experience with NTI: "It had been 11 years since I had worked. I was looking for full-time employment and NTI was the place that gave me that opportunity. I hope this ad will help people let go of their fears and take a shot with NTI."
Alan Hubbard, COO of NTI stated, "I am very happy we got these two class acts (Dominic Barber and Derrick Poole) in here helping us with this. I couldn't think of anyone better to represent this company."
When asked about Barber's basketball ability, Poole stated, "He's a natural! We are going to have to get him to come up to Boston to play for the Celtics." Considering the Rollin' Celtics live by the motto, "Push Hard. Play Harder." it wouldn't be difficult to see Poole as a perfect fit for the team. Sanders said, "Dominic did an awesome job in the photo shoot and hopefully he doesn't transition away from employment at NTI and become a professional model. Maybe he could do that on the side, but we still need him at NTI."
The advertisement can be seen on the back cover of the August issue of New Mobility magazine at bit.ly/MagazineAdNM. For those who receive SSI or SSDI payments and would like to come back into the workplace like Barber, visit NTI@Home at http://www.ntiathome.org/newmobility.
COMPANY PROFILES:
NTI@Home (http://www.ntiathome.org) is a 501(c)(3) nonprofit organization that helps Americans with disabilities find employment opportunities with government agencies, Fortune 500, and large and small companies. Through NTI@Home individuals receiving SSI/SSDI income or working with a Vocational Rehabilitation Counselor are eligible for free job training, mentoring, and job placement.
New Mobility Magazine (http://www.newmobility.com) is the official publication of the United States Spinal Association, helping integrate wheelchair users into mainstream society. The magazine's mission is to improve quality of life for people with spinal cord injuries.
The Rollin' Celtics (http://www.rollinceltics.com) are a wheelchair basketball team based out of Raynham, MA. They play in the National Wheelchair Basketball Association, which is affiliated with the NBA. The NWBA has more than 200 teams across the country. Bryan Bjorklund is the head coach of the team.
Mass Premier Courts (http://www.mpcourts.com) is an athletic facility in Foxboro, MA. They host AAU teams, leagues, tournaments, and clinics for basketball and volleyball programs. The facility has six regulation courts, including two maple wood courts, like the one used at the Boston Celtics' practice facility.
Three Horsemen (https://threehorsemen.org) is a marketing company out of New Bedford, MA offering media services, marketing, sales, branding, social media, photography, videography, and business development services.
Pedro Blanco Photography (https://pedroblancophotography.com) is based in Barnstable, MA. He specializes in studio fitness competitor portraits, on location shoots, boudoir, maternity, and fine arts photography.