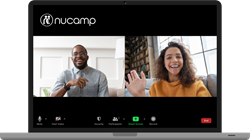 "We've worked really hard to expand equal access to coding education for lower-income, unemployed, and underemployed individuals. Too many veterans have joined these groups during these tough COVID-19 times," said Ludo Fourrage, co-founder and CEO at Nucamp
BELLEVUE, Wash. (PRWEB) November 11, 2020
Nucamp (http://www.nucamp.co), a leading provider of nationwide affordable software coding bootcamps, and Warrior Rising (http://www.warriorrising.org), a national 501(c)(3) non-profit that assists U.S. military veterans in becoming business owners, today announced an alliance to help veterans shift careers into software development and entrepreneurship. As part of the partnership, Nucamp and Warrior Rising will collaborate to assist veterans to start, maintain, and expand small businesses through software development skills. Furthering its mission to help people in underserved communities become software developers, Nucamp is announcing the opening of a $50,000 Veteran Coding Bootcamp Scholarship Fund to assist U.S. military veterans impacted by the COVID-19 economy.
COVID-19's Economic Impact on Veterans
According to the Military Times, when 2020 began, the veteran unemployment rate was 3.5 percent. Then COVID-19 struck and the veteran unemployment rate now sits at 6.4 percent, lower than the nonveteran unemployment rate of 7.9 percent. However, a closer inspection shows the pandemic isn't affecting all veterans equally. Post-9/11 veterans (7.5 percent) and younger veterans ages 25-to-34 (9.4 percent) are experiencing higher rates of unemployment. So too, the black veteran unemployment rate sits at 7.8 percent, strikingly higher than that of white veterans (6.1 percent).
Creating a Path for "Vetrepreneurs" Through Coding and Business Training
"We've worked really hard to expand equal access to coding education for lower-income, unemployed, and underemployed individuals. Too many veterans have joined these groups during these tough COVID-19 times," said Ludo Fourrage, co-founder and CEO at Nucamp. "It's heartbreaking to see U.S. veterans taking low-wage jobs to meet their financial challenges after they selflessly served their country. We want to do our part to open up greater access to higher-paying jobs in software development and business ownership to everyone, and especially veterans."
Fourrage, who worked at Microsoft for 18 years leading the development of digital learning, founded Nucamp Coding Bootcamp after seeing a significant affordability and accessibility gap with coding bootcamps, especially for those who are underemployed yet working full-time jobs. Nucamp offers a superior coding bootcamp experience for under $2,000, a huge shift from traditional coding bootcamps that typically cost $10,000-$20,000. The company offers part-time, 22-week full stack web and mobile development bootcamps that revolutionize how people access rewarding careers in software development, without requiring a college degree or expensive education.
Warrior Rising was founded in Utah in 2015 by retired U.S. Army Special Forces Major Jason Van Camp, author of "Deliberate Discomfort: How U.S. Special Operations Forces Overcome Fear and Dare to Win by Getting Comfortable Being Uncomfortable." The organization seeks to make a difference for those veterans who want to continue to serve, lead, profit from their own achievement, and solve problems with small business solutions. Together, Nucamp and Warrior Rising aim to pave the way for veterans to start or accelerate small businesses centered around software development skills.
"Our team works with veterans to assist them in turning the unique skills they learned while in the military into successful businesses," said Van Camp. "Software development skills are important in creating many veteran-owned businesses today and into the future. By partnering with Nucamp, veterans get the best of both worlds: superior business training and coding training to start or accelerate their aspirations in business."
One Veteran's Coding Bootcamp Story
Former Petty Officer First Class, Paul Turner, a FMF Hospital Corpsman who served two Iraq tours during Operation Enduring Freedom in 2003 and 2006 with 1st Marine Division and 2nd Marine Division, was a graduate of Nucamp's very first coding bootcamp course in Tacoma, Washington. Like many veterans, when Paul left the Navy, he struggled to find his professional purpose as a civilian.
"When I came out of the military, I fell on hard times and landed a job catching shoplifters, even with my military background, college degrees, and experiences as an associate professor," said Turner. "I found Nucamp and the price point gave me the perfect opportunity to rebrand myself. Times are even tougher now for veterans due to COVID, so I'm excited to bring this scholarship opportunity to so many veterans who are hungering for new starts and a career in technology."
Upon completing Nucamp's course, Turner joined Nucamp as the Student Success Manager where he currently focuses on helping students achieve academic success within their web development bootcamp. Two years later, he began volunteering as the director of the Warrior Academy for Warrior Rising, which helps U.S. military veterans and their immediate family with business planning, formation, and funding. In his role at Warrior Rising, he immediately saw the synergies to assist other veterans interested in learning to code, whether to form their own business or to work for someone else in a well-paying job.
How the Nucamp Veterans Coding Bootcamp Scholarship Works
Scholarships are available on a first-come, first-served basis for qualified individuals who demonstrate their military status, and until the fund is depleted. Veterans who complete Warrior Rising's Warrior Academy are also cordially invited to join Nucamp Coding Bootcamp to learn valuable web development skills for their small business needs and knowledge. Veterans can apply to the scholarship fund in five simple steps, which can be found here:
https://www.nucamp.co/scholarships/warrior-rising
About Nucamp
Nucamp's mission is to help all aspiring career shifters currently left out of the digital economy learn to code. Nucamp offers the industry's only truly affordable 22-week coding bootcamp for under $2,000 and delivers a high-quality curriculum in small classes of 12 maximum students using a unique hybrid evening and weekend format. Our model relies on carefully selected industry professionals who want to share their passion for coding in their local community. With Nucamp, whether you live in a big city, a suburb or a rural area, you can get the coding skills you need without quitting your job, getting into debt, or having to share your future income. For more information, visit http://www.nucamp.co.
About Warrior Rising
Warrior Rising is a national 501(c)(3) nonprofit dedicated to helping veterans achieve success in business through instruction, mentoring, funding access, and maintaining the veteran community. Warrior Rising empowers U.S. veterans and their immediate families by providing them opportunities to create sustainable businesses, perpetuate the hiring of fellow U.S. military veterans, and earn their future. Founded in Utah in 2015 by former military veterans and strong supporters of the military, we seek to make a difference for those veterans who want to continue to serve, lead, profit from their own achievement, and master their destiny. To date, Warrior Rising has assisted more than 2500 veterans from every state, being their business battle buddy, and fostering a sense of belonging as members of the Warrior Rising tribe. For more information, visit http://www.WarriorRising.org.