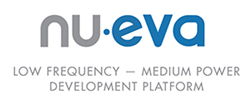 "The combined efforts of NXP and NuCurrent are opening the doors for higher power levels, with the interoperability and safety benefits that are foundational to the Qi standard." - Steve Tateosian, NXP Director of IoT and Security Solutions
CHICAGO (PRWEB) July 17, 2019
NuCurrent, an industry leader in wireless power systems and technology development, announces the release of its NuEva Medium Power Development Platform for wireless charging systems. The platform leverages the company's patented magnetics technologies, advanced design tools, system software and engineering expertise – along with integrated circuits from leading semiconductor provider NXP® Semiconductors – to provide standardized Qi solutions for product manufacturers needing 25-90 watts of charging power.
Prior to the development of this NuEva platform, the majority of products that featured wireless charging required less than 20W of power. Through NuCurrent's efforts with NXP, the NuEva platform extends efficient wireless charging capabilities to products with much higher power requirements like smarthome devices, home robots, personal transportation vehicles, 5G infrastructure and more.
"This is the natural progression of our industry - to move into higher power levels," said NuCurrent VP of Sales and Marketing Tim Tumilty. "NXP is leading the way with integrated circuits for these power levels, and we're contributing our core technologies and integration expertise to help new waves of manufacturers explore the possibilities of wireless power."
The NuEva Development Platform addresses the underlying challenges found in designing wireless charging solutions for medium power (25-90W) devices. These include: magnetics, tuning, power conversion, foreign object detection, integrated circuits/firmware, shielding and communications.
"Building on our success with lower-power devices, we see great opportunities to expand the Qi standard to higher power levels," said NXP Director of IoT and Security Solutions Steve Tateosian. "The combined efforts of NXP and NuCurrent are opening the doors for higher power levels, with the interoperability and safety benefits that are foundational to the Qi standard."
About NuCurrent
NuCurrent supplies Fortune 1000 companies and other high-potential product developers with wireless power technologies and sub-systems. Our core technologies span magnetics, software and systems simulation and have generated over 85 patents granted or pending globally. Our broad systems integration expertise supports manufacturers of appliances, smartphones, wearables, hearables, consumer electronics, medical devices, robotics, IoT, sporting equipment and other emerging product categories.
NuCurrent solutions are based on inductive wireless power transfer which offers convenience, safety, efficiency, and great user experience. Founded in 2009, we are a venture-backed company based in Chicago with offices in Hong Kong and San Diego.