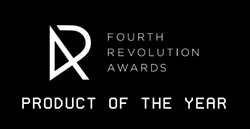 "We created NuRez, because in many cases a high-frequency solution provides our customers with a better design path and user experience. NuRez opens up the possibilities of wireless power to a wide range of products of varying sizes, shapes and power needs." ~ Jacob Babcock, CEO, NuCurrent
CHICAGO (PRWEB) September 19, 2018
NuCurrent, an industry leader in wireless power systems and technology development, announces mHUB and DMDII have named NuCurrent a finalist for the 2018 Fourth Revolution Awards in the Product Design of the Year category. The Fourth Revolution Awards honor the best and brightest of the Chicago region's manufacturing community in a variety of categories. Winners for each of the seven categories will be announced at an awards ceremony on October 10 at the Museum of Science and Industry in Chicago.
NuCurrent was selected for Product Design of the Year for its NuRez™ wireless power systems, which provide efficient wireless power to consumer and industrial products using a high-frequency solution. Compared to other wireless power options (such as Qi), NuRez systems serve a broader range of devices (based on size, power level and number of items to be charged), farther distance, and provide greater positioning flexibility when charging. In addition, NuRez is applicable across a wide variety of product categories and use cases including consumer electronics, wearables, medical devices, IoT and industrial computing. While Qi will continue to be the standard for smartphones and some other products, NuRez offers a compelling solution – sometimes the only option - for many other industries and product categories.
"As great as wireless charging via Qi is for cell phones and other flat devices, there are several product categories that current standards can't support – such as devices with lower power needs or products with multiple parts that need to be charged like hearing aids, sporting goods, and apparel," said Jacob Babcock, CEO, NuCurrent. "We created NuRez, because in many cases a high-frequency solution provides our customers with a better design path and user experience. NuRez opens up the possibilities of wireless power to a wide range of products of varying sizes, shapes and power needs. We're thrilled to be selected again as a finalist for Product Design of the Year and see it as additional validation of our efforts to help customers get high-quality wireless power-enabled products to market quickly."
Named for the Fourth Industrial Revolution, which fuses physical product development with digital processes to impact all disciplines, economies and industries, the Fourth Revolution Awards program celebrates leaders, companies and industrial initiatives that have made significant contributions to the Chicago region's manufacturing ecosystem. This is the second consecutive year NuCurrent has been named a finalist for Product Design of the Year, which recognizes a product design that is unique, improves user experience, and impacts productivity and the greater good. All award finalists are selected by a committee of accomplished judges, but winners will be selected through public online voting from now through September 27.
NuCurrent was recently named a 2018 ITA CityLIGHTS Finalist (CEO of the Year and Industry Disrupter), 2018 IoT Global Awards Finalist (Connected Consumer and Smart Home, and Connected Health or Wearable Tech), 2017 IoT Breakthrough Awards winner (Machine-to-Machine Embedded Hardware Company of the Year) for the second consecutive year, and a 2017 FLEXI Award winner (Product Innovation Award). The wireless power company was also named a 2017 Timmy Awards Finalist (Best Technology Work Culture), 2017 Chicago Innovation Awards Finalist, and a Chicago Inno 2016 50 on Fire winner. NuCurrent was also named No. 1 on the 2015 Crain's Chicago Business Eureka Index with the highest per-capita patent output of any company in Illinois. The company was also listed in the top 10 percent overall in patent quality score, which considers the uniqueness of the invention covered by a patent and other important factors.
To view the 2018 Fourth Revolution Awards list of finalists or cast your vote for the winners, visit http://bit.ly/4RevVoting from now through September 27. To learn more about NuCurrent, please contact info@nucurrent.com or visit http://nucurrent.com.
About NuCurrent
NuCurrent delivers breakthrough wireless power solutions to product teams through its expertise in wireless power technologies and full-system integration. The company's NuIQ™ Technology Platform includes its patented MLMT antennas – which are the industry's thinnest and most efficient (highest Q) – along with proprietary software that accelerates successful wireless power solution development through advanced hardware simulation and firmware control. NuCurrent's engineering team applies these core technologies in partnership with client product teams to produce complete wireless power solutions on the Qi and Airfuel Standards and within closed, proprietary systems. Founded in 2009, the venture-backed, Chicago-based company has over 85 patents granted or pending worldwide. For more information, visit http://www.nucurrent.com and follow us on Twitter at @NuCurrentTweets.