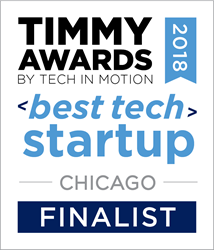 As the wireless power space continues to grow, NuCurrent will be at the forefront of innovation and working on the toughest challenges in wireless power.
CHICAGO (PRWEB) September 28, 2018
NuCurrent, an industry leader in wireless power systems and technology development, announces it has been named a finalist for the 2018 Timmy Awards in the Best Tech Startup category. Now in its fourth year, the Timmy Awards recognize the top workplaces for tech professionals. Winners for each of the four award categories will be announced at Chicago's Timmy Awards on October 24 at 1871 in Chicago.
The Timmys are presented in four categories: Best Tech Work Culture, Best Tech Manager, Best Tech Startup, and Best Tech Workplace for Diversity. The Best Tech Startup award recognizes a startup that employs forward-thinking leaders, possesses a great work environment, and produces an innovative product that aims to disrupt the market. This is the second consecutive year NuCurrent has been named a finalist for the Timmy Awards, after being selected in 2017 for Best Technology Work Culture. All award finalists are selected by a panel of accomplished judges representing Illinois technology. The public can contribute to the selection of this year's winners by voting online from now through October 3. Winners will be determined by a composite score of the judges' scores, as well as public voting. Past award winners include LearnVest, Venmo and Trip Advisor.
"We're thrilled and honored to be recognized again by Tech in Motion as one of the best tech startups," said Jacob Babcock, CEO, NuCurrent. "Our team is developing breakthrough wireless charging technologies and helping product teams bring products with superior wireless charging performance to market quickly. As the wireless power space continues to grow, NuCurrent will be at the forefront of innovation and working on the toughest challenges in wireless power."
"It is an honor to celebrate the companies who are striving to better the lives and workplaces of their tech teams," said Mandy Walker, Director of Marketing, Tech in Motion. "As the event series grows each year, we are excited to celebrate the diversity, innovation and growth in the community – which we recognize is represented by these finalists whether or not they walk home with an award."
NuCurrent was recently named a 2018 ITA CityLIGHTS Finalist (CEO of the Year and Industry Disrupter), 2018 Fourth Revolution Awards Finalist (Product Design of the Year) 2018 IoT Global Awards Finalist (Connected Consumer and Smart Home, and Connected Health or Wearable Tech), 2017 IoT Breakthrough Awards winner (Machine-to-Machine Embedded Hardware Company of the Year) for the second consecutive year, and a 2017 FLEXI Award winner (Product Innovation Award). The company was also named a 2017 Chicago Innovation Awards Finalist and a Chicago Inno 2016 50 on Fire winner. NuCurrent was also named No. 1 on the 2015 Crain's Chicago Business Eureka Index with the highest per-capita patent output of any company in Illinois. The company was also listed in the top 10 percent overall in patent quality score, which considers the uniqueness of the invention covered by a patent and other important factors.
To view the 2018 Timmy Awards list of finalists or cast your vote for the award category winners, visit http://bit.ly/TAVoting from now through October 3. NuCurrent is currently hiring for positions across the company. To apply, visit the company's careers page.
About NuCurrent
NuCurrent delivers breakthrough wireless power solutions to product teams through its expertise in wireless power technologies and full-system integration. The company's NuIQ™ Technology Platform includes its patented MLMT antennas – which are the industry's thinnest and most efficient (highest Q) – along with proprietary software that accelerates successful wireless power solution development through advanced hardware simulation and firmware control. NuCurrent's engineering team applies these core technologies in partnership with client product teams to produce complete wireless power solutions on the Qi and Airfuel Standards and within closed, proprietary systems. Founded in 2009, the venture-backed, Chicago-based company has over 85 patents granted or pending worldwide. For more information, visit http://www.nucurrent.com and follow us on Twitter at @NuCurrentTweets.
About Tech in Motion Events
Tech in Motion is an international events series that brings local tech community professionals together to connect, learn, and innovate. What started as a collaborative project in 2011 between IT recruiting firms Jobspring Partners and Workbridge Associates, part of the Motion Recruitment network, grew into an organization of more than 100,000 members across 12 chapters in North America including Atlanta, Boston, Dallas, New York, Philadelphia, DC, Chicago, San Francisco, Silicon Valley, LA, Orange County and Toronto. Please visit techinmotionevents.com for more information about notable speakers, sponsors and events.